Kanye West's Yeezy is rated the most diverse fashion brand on the runway
It's no secret that fashion has a diversity problem. For decades, fashion houses have sent the same woman down the runway season after season: young, tall, white and exceptionally thin. This year, though, things appear to be changing — at least a little bit.
According to a new report from The Fashion Spot, the New York, Paris, London and Milan runways featured 25.3% models of color — more than any year since the site began keeping track in October 2014.
The site looked at 299 shows and 8,832 model appearances from the Spring/Summer 2017 season and found that New York's runways were the most diverse, at 30.3% models of color.
If you're a fashion watcher, you won't be surprised to learn that the most diverse show came courtesy of Kanye West's Yeezy brand, where 97% percent of the models on the catwalk were nonwhite.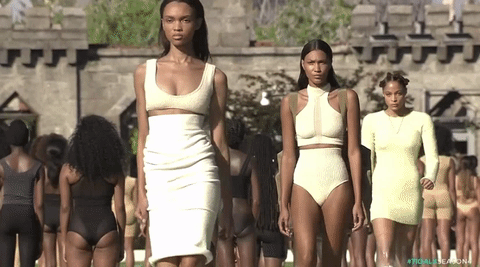 That's actually down from last season, when West showcased 100% models of color on his runway.
https://www.instagram.com/p/BBqukGPBcu_
It wasn't all good news at Yeezy, though. While West's Yeezy Season 4 show may have featured the highest percentage of nonwhite women, West did catch some flack when his casting call was released.
Stating that he was looking for "multiracial women only," West was criticized for seeming to exclude dark-skinned models. On Twitter, users wondered whether model hopefuls should "bring their Ancestry.com DNA results" and pointed out that "we know he meant light skinned" when he said "multiracial." false