Kanye West's Career Is Crashing Down Around Him As Adidas Cuts All Ties
Ye's antisemitic comments and hate speech stunts have cost the artist major money.
This post has been updated on Oct 26, 2022 to reflect new developments.
Fans of Kanye West's clothing line could soon be scrambling for vintage "drip" at their local thrift shop. Adidas announced it was cutting all association with the rapper and entrepreneur due to his latest antisemitic remarks. 
Now known as Ye, the former husband of reality tv star Kim Kardashian has shocked the world with behavior many are finding difficult to justify.
At Paris Fashion Week, he wore a shirt that stated "White Lives Matter," which, according to The New York Times and the Anti-Defamation League, is considered to be "hate speech and that has been adopted by the white supremacist movement." 
RELATED: Celebs Slam Kanye West for Offensive Fashion Show and Rally Around Vogue Editor
Ye has also made a number of antisemitic remarks in the past month, both on his social media channels and during interviews (such as his latest with Tucker Carlson). The final straw was his tweet stating "death con 3 ON JEWISH PEOPLE," which got his Twitter and Instagram accounts suspended.
The artist has faced backlash for his comments along with a scary amount of support for his actions as well. As a result, companies Ye is associated with are reconsidering their partnerships.

Adidas is leading the way with its decision to disconnect entirely from the Yeezy brand (it has been manufacturing its products for over a decade).
"Ye's recent comments and actions have been unacceptable, hateful and dangerous, and they violate the company's values of diversity and inclusion, mutual respect and fairness," Adidas announced in an official statement. 
The sportswear brand will cease production and stop sending payments as well. It's a move that will cost the brand millions and reduce the celebrity's net worth.
As of October 26th, two more big name brands have joined Adidas in shuttering their partnerships with Ye. Balenciaga has said "bye bye," along with Gap, who posted several announcements on social media.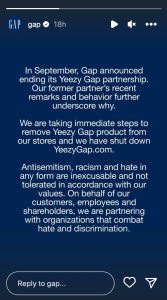 Foot Locker is also pulling Yeezy sneakers from its shelves.
Thankfully, the majority of public figures seem to be against Ye's words, with celebrities like Jamie Lee Curtis, and even Khloe Kardashian, Ye's former sister-in-law, coming out to stand against hate and support the Jewish community.
RELATED: 'Halloween Ends' Scream Queen Jamie Lee Curtis Reflects on the Film Franchise That Launched Her Career
"Hate has no place in commerce," Curtis tweeted. "Thank you @adidas for standing with people united against hatred." 
"I support my Jewish friends and the Jewish people," Khloe Kardashian wrote, resharing a photo from cookbook author Jessica Seinfeld's Instagram account to her own Story on October 23rd, reported Billboard.
Along with big brands, Ye's career is close to shutting down, too. CAA, the talent agency that represents Ye, has dropped him as a client, and MRC will not move forward on producing his documentary.
Many are eager to see if Ye's economic footing will follow suit. In the meantime, the rapper-turned-fashion-designer plans on opening his own stores and production facilities, which he's calling his "Yecosystem," though nothing official has been said for the brand since Adidas' announcement. 
Kat is a born and raised New Yorker exploring the world as she writes, eats, and everything in between.
Read more