Celebs Slam Kanye West for Offensive Fashion Show and Rally Around Vogue Editor
Fashion expert Gabriella Karefa-Johnson calls West's apparel "deeply offensive, violent and dangerous."
Kanye West has gone from fashion mogul to controversial king.. again. The rapper put on quite a show of his own while attending Paris Fashion Week. All eyes (and cameras) were on his Yzy black sweatshirts with a mural of Pope John Paul II on the front and three powerfully offensive words written across the back: "WHITE LIVES MATTER," which he showcased during his Yzy fashion show on Monday.
"Everyone knows that Black Lives Matter was a scam. Now it's over. You're welcome," West wrote in a since-deleted Instagram Story, per USA Today.
West wasn't the only person spotted wearing the controversial apparel. Conservative commentator Candice Owens as well as model Selah Marley, aka Lauryn Hill's daughter, also donned the sweatshirts.
Since news broke of West's offensive ensemble, many celebrities have voiced their disappointment and criticism. However, one fashion expert in particular is getting a lot of flack after speaking out.
Celebrities are rushing to Gabriella Karefa-Johnson's defense after West publicly annihilated her on Instagram, following her remarks towards Yzy's WHITE LIVES MATTER sweatshirts, which she deemed "deeply offensive, violent and dangerous." Karefa-Johnson is a contributing editor at "Vogue" and "Garage" magazine's fashion director.
Gigi Hadid was among the first to rally behind Karefa-Johnson. "You wish u had a percentage of her intellect," she commented on West's Instagram post, while also calling him "a bully."
Hailey Bieber showed her support for Karefa-Johnson as well. "My respect for you runs deep my friend!" the beauty guru wrote on her Instagram Story. "To know is to adore you and to work with you is an honor. the most kind. the most talented. the most fun. the most chic."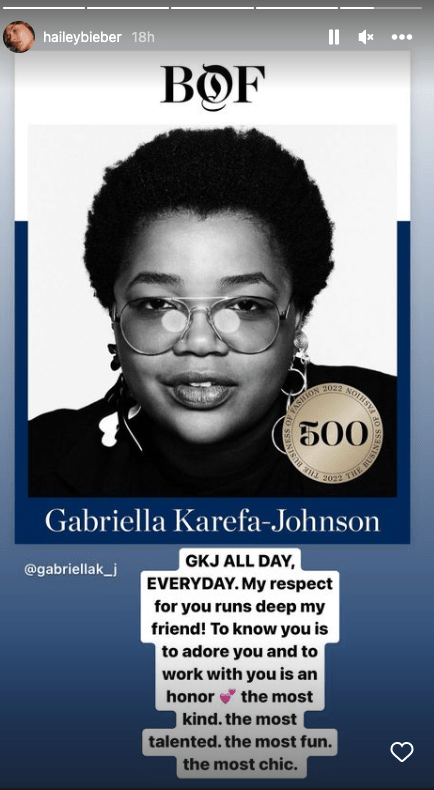 Jaden Smith was actually in attendance at the Yzy Paris Fashion Week show. In multiple tweets, Smith told fans he "had to dip" out early following the sweatshirt's debut. The tweet was liked by West's ex-sister-in-law, Kendall Jenner.
"I Don't Care Who's It Is If I Don't Feel The Message I'm Out," he tweeted to which he followed up with another tweet writing, "Black Lives Matter."
Kim Kardashian hasn't publicly addressed West's controversial move. But, a source tells Hollywood Life that the SKIMS founder is "utterly disgusted" and believes " he is, once again, trying to get attention."
Emily is a NYC-based freelance entertainment and lifestyle writer — though, she'll never pass up the opportunity to talk about women's health and sports (she thrives during the Olympics).
Read more