Kanye West & John Legend both dressed up as the Easter bunny aka were #DadGoals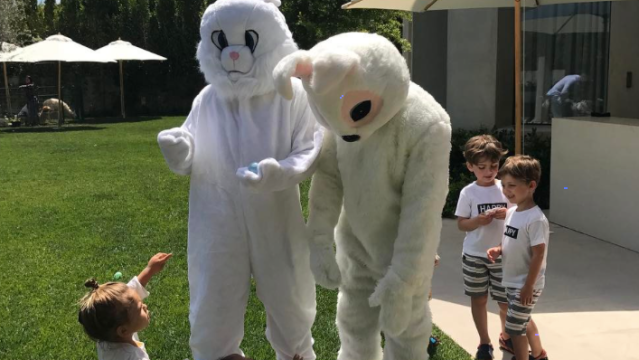 It looks like Kayne West got into the Easter spirit this weekend! In fact, West dressed up as the Easter bunny for his kids, and it was so cool.
On Sunday, while other families were dying eggs, West was putting on his bunny suit. Clearly, the rapper will do anything for his kids, and it's too cute.
Before putting on the giant bunny head, West posed for a picture with wife Kim Kardashian, and their two kids, North and Saint. They were definitely dressed to impress.
Then came the epic bunny costume!
https://www.instagram.com/p/BS-ChUdFh5E
The kids loved it…almost as much as Kardashian did. It's kind of creepy, if we're being honest, but we just love it so much to stop looking.
https://www.instagram.com/p/BS-CY_JFuUO
West wasn't the only one at the Easter bash to dress up like a furry white animal.
John Legend got in on the bunny action too!
In fact, the dad duo hung out with their kids together, while dressed up in rabbit costumes, which is hilarious.
Legend attended the Kardashian Easter with his daughter Luna, wife Chrissy Teigen and mother-in-law, Vilailuck Teigen. Clearly, the group had a blast and couldn't stop enjoying their holiday festivities.
Isn't Luna, just the cutest?
We can't get enough of all of these celebrity kids and their festive holiday parties. They look like so much fun, and we want an invite next year…pretty please.