Kanye West's Instagram is back, and he keeps posting pics of abusive and failed celeb couples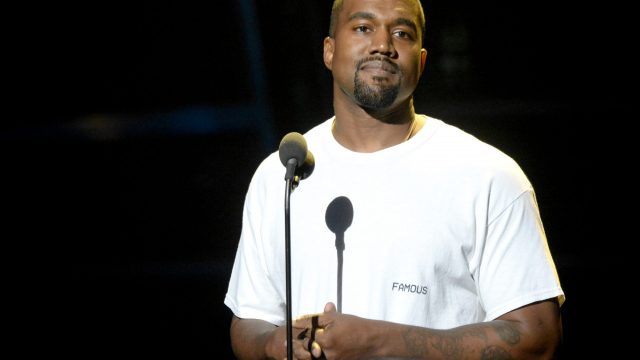 It's been months since we had Kanye West pop up on our Instagram feeds, but he's gifted us with a comeback on none other than Valentine's Day. Instead of being stoked for his return, though, the star actually has us confused.
Things started out really sweet with what we're assuming was a message to his wife, Kim Kardashian West. The rapper posted a card reading simply, "Happy Valentine's Day Babe." Then, with no explanation, he proceeded to spam us with a series of 'grams consisting of high-profile couples, most them relationships that ended very badly.
From Jennifer Aniston and Brad Pitt, who went through a highly publicized divorce the world will never forget, to Kate Moss and Pete Doherty, who physically and verbally abused one another during their relationship, we're not quite sure what he's trying to say here.
Thankfully, through all the heartbreak, there was a glimmer of light when West posted an adorable black and white photo of our former president, Barack Obama, and his lovely first lady, Michelle. The artist does have a knack for combining iconic — even if deeply divisive — pop culture moments…right?
Honestly, we wouldn't be surprised if this is his way of teasing an upcoming song. If anything, we're actually hoping this social media comeback turns into a musical one. Hey, the day's not over yet, so perhaps Mr. West probably has more up his sleeve. With thousands of comments flooding each photo, there's no doubt his fans have a few thoughts.
https://www.instagram.com/p/BfMH3xlhS2h
https://www.instagram.com/p/BfMNCToB_p8
https://www.instagram.com/p/BfMalzjhcEw
Regardless of what all this means, we're kind of disquieted by his choice of couples to immortalize, so we hope he switches to non-stop snaps of North, Saint, and baby Chicago West ASAP. Happy Valentine's Day?