A former MTV chief has finally revealed what happened backstage after Kanye's "imma let you finish" moment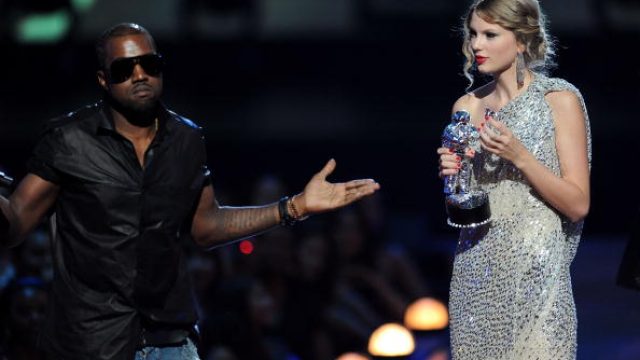 We hate to beat a dead horse, but the infamous "Imma let you finish" moment is a pop culture moment that will go down in history. Need we remind you? Way back in 2009, Taylor Swift won the Best Female Video award at the VMAs. Her acceptance speech was interrupted when Kanye took the mic. The feud between them has continued on and off ever since. Let's rewind back to that fateful night.
First of all, here's what we all saw.
Taylor had just begun her acceptance speech when Kanye took the mic.
"Yo, Taylor, I'm really happy for you, I'mma let you finish, but Beyonce had one of the best videos of all time. One of the best videos of all time."
https://www.youtube.com/watch?v=RvaakT52RjQ?feature=oembed
BTW, the VMAs agreed with Kanye, because Beyonce took home the Video of the Year award for "Single Ladies" later that night.
Now, what happened backstage.
In an interview with The Hollywood Reporter, former MTV Chief Van Toffler finally revealed what took place backstage after the interruption heard around the world.
"When Kanye walked up onstage with Taylor that year, it turned out that Taylor had to go onstage to do her song five minutes later. I ran out of the truck to see that everything was alright, and Taylor and her mom were crying hysterically," Toffler said. "I'm not always wonderful with emotions. I didn't know what to say. Then I went backstage, and Beyoncé was crying, too."
Beyonce? Tears? What?
Yep, as it turns out, the Queen was also emotionally affected by Kanye's stunt. We don't blame her. It was a memorable night for all of us – after all, it's still making headlines eight years later!