Hark, the herald angels sing! Kanye is smiling in today's Kardashian Christmas card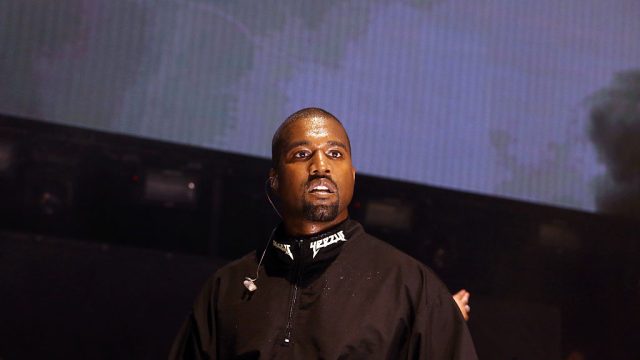 Each December, the the Kardashian Christmas card comes highly anticipated. This year, they shot an entire 25 Days of Christmas series, which Kim Kardashian has slowly dropped via Instagram. We're only a few days shy of Christmas (in case you lost your calendar) and Day 22's card features a grinning Kanye West and his son, Saint.
The Kardashian Christmas Card is often over-the-top, but they took it down a notch for 2017. Well, aside from the whole "staging a professional photoshoot for your family Christmas card" thing. In the past, the card themes have ranged from cheesy biker gang to "Gossip Girl promo shot."
This year, however, they opted for what Huffington Post called, " '90s Gap commercial realness." That means subdued blue denim, white ribbed tanks, and lots of negative space.
Kanye's latest appearance shows him in true "adorable dad" form.
https://www.instagram.com/p/BdAtiJylZt-
We dare even the grinchiest Kardashian-West haters not to swoon. Sure, Saint's face is all "put me down this instant, dad." And yes, there are some weird Baby Jesus vibes going on here. But just look at how happy Kanye is! He's grinning from ear to ear.
Kanye first showed up on Day 16 in this weird image:
https://www.instagram.com/p/BcxObq-lVo4
The Kardashian-Wests appear suspended in space and time, floating aimlessly through brightness. It wouldn't be Kanye without at least one bizarre, artistic statement.
But the latest photo is too cute. Kanye's smile really is infectious.
We all deserve a smiling Kanye this Christmas.
Some fans won't be satisfied, however, until we get a glimpse of Kylie Jenner. Many are wondering if she'll finally confirm those pregnancy rumors in one of the photos…perhaps on Christmas Day? false
Maybe the reveal will come on December 25th with an image of Kylie dressed up as Santa. We can dream, right?