Kamala Harris is officially running for president, and here's why that's huge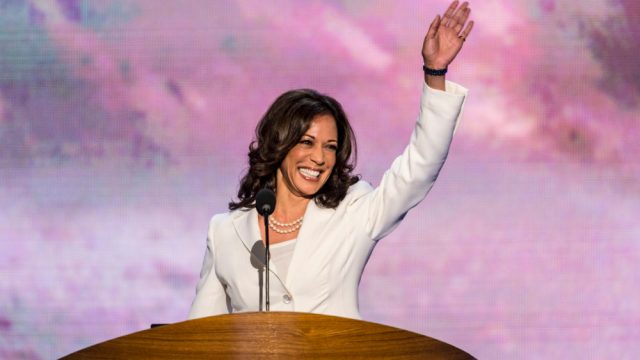 On Monday, January 21st, California senator Kamala Harris (Dem.) announced that she will run for president in 2020. This means that Harris could potentially become the first woman, and the first black woman, to ever hold the office of the presidency in the United States. She announced the news in a video released via Twitter that also coincided with an appearance on Good Morning America. 
"Justice. Decency. Equality. Freedom. Democracy. These aren't just words. They're the values we as Americans cherish. And they're all on the line now," she says in the high-energy video. "The future of our country depends on you and millions of others lifting our voices to fight for our American values."
The video features diverse people and families—of all races, ethnicities, ages, and sexualities. Harris captioned her post, "I'm running for president. Let's do this together."
Though she's worked in politics for a number of years, many Americans first became acquainted with Harris during the Brett Kavanaugh hearing, when she took the judge to task on whether or not he was purposefully withholding information from the panel.
At another point during the hearing, she pointedly asked Kavanaugh, "Do you agree that it is possible for men to both be friends with some women and treat other women badly?" after he cited his many female friendships as "proof" he could not have sexually assaulted Christine Blasey Ford when he was in high school.
Harris is the fourth candidate (and, notably, fourth woman) to announce her plans to run in 2020. Elizabeth Warren of Massachusetts, Tulsi Gabbard of Hawaii, and Kirsten Gillibrand have also declared plans to run or seriously explore the possibility of running. According to CNN, the California senator was formerly a criminal prosecutor, trying sex crimes and homicides, and has been known to tackle Trump's racist and xenophobic rhetoric.
During her GMA appearance, Harris noted that she chose to announce her candidacy on Martin Luther King Day to honor MLK—one of her personal heroes. This week also marks the 47th anniversary of the year Shirley Chisholm, the first black woman to ever run for president, announced her campaign.