Kaley Cuoco spent her "honeymoon" in the hospital, and we hope she's okay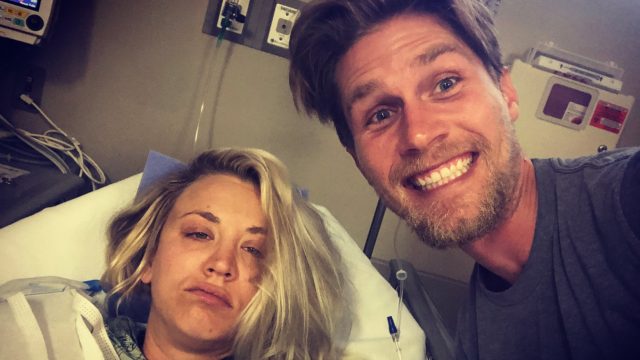 Not even a full week into her marriage to new husband Karl Cook, Big Bang Theory actress Kaley Cuoco landed in the hospital for shoulder surgery, and we think it's safe to say this isn't how most couples envision their first days of marital bliss.
Instead of embarking on a romantic getaway, the newlyweds are spending their "honeymoon" nursing Cuoco's shoulder. Luckily, it seems they're making the best of the situation — at least based on their hilarious Insta posts.
First, Cuoco shared the saddest hospital-bed selfie ever, captioning it, "When your 'honeymoon' is shoulder surgery and your husband looks just as happy." She added that she's "on the road to recovery" and thanked her hairstylist, Clariss Rubenstein, for making sure her hair color is "on point."
https://www.instagram.com/p/Bk3MOc3l035
For his part, Cook posted both a photo and a video of Cuoco after surgery, writing, "Everyone has their own version of a newlywed glow…"
As they made their way home from the hospital, Cook posted a video of his new wife asleep in the car, noting that she was "snoring like a distressed walrus" (LOL). However, all seems well — Cuoco was posting pics to her Instagram Stories a few short hours later from the comfort of home.
We're not sure if the surgery was expected or not, but according to E! News online, the actress said the procedure corrected an "undisclosed medical issue." We're sending all our well wishes to Cuoco as she recovers. And hopefully a relaxing, blissful honeymoon is in their future soon.