Kaley Cuoco said her comments about what would happen if her husband "left tomorrow" were taken out of context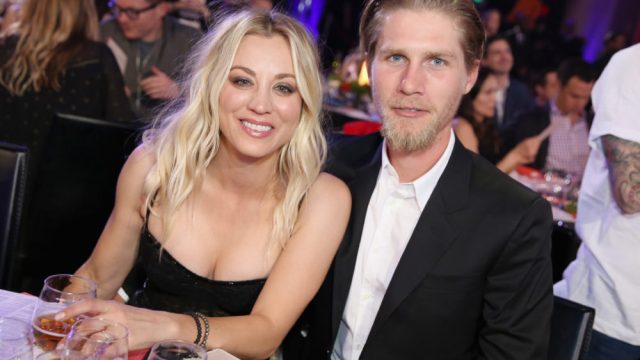 Many a Big Bang Theory fan will likely know that actress Kaley Cuoco married Karl Cook in a gorgeous ceremony in July of this year. The pair had been dating for two years, and Cuoco has often been open about how happy she is in her partnership.
"He's my perfect match," Cuoco once told People.com. "He lets me wake up in the morning and say, 'I want to go and rescue rabbits.' And he's like, 'Alright, let's get a coffee and let's go.' And that's him. We are the same, our views are the same, our morals are the same—he is my perfect match."
https://www.instagram.com/p/BkrZcTuFq4J
However, that doesn't mean Cuoco feels like she technically needs her hubby in any way. In a recent interview with Women's Health, the star got real about her independence and how making sure she's okay on her own has always been a top priority.
"I like knowing that I'm set, because I've taken it upon myself to do that," she told the magazine. "I like to tell my friends, 'Always make sure you have your life going, and that you're number one, so that anyone who comes into it—husband, or boyfriend, or girlfriend, however you roll—that's just an added bonus to something you're already creating.'
"I don't need Karl for anything," she continued. "If Karl left me tomorrow, I'd be fine [financially]. And he knows that, and he would be fine too."
While we love Cuoco's perspective, the internet (of course) seemed to take the comments out of context, and made it sound as though the actress would be totally fine with her marriage ending tomorrow. Cuoco clarified her words during an October 11th call to On Air With Ryan Seacrest.
"[It's been] taken a little out of context [...] because, yes, I would be very upset if my husband left me," she said. "With that being said, I think in this climate and age, women need to know that they are OK on their own and they can be stable without anybody else. It's very, very important that we're not relying on other people.
She continued: "We have to rely on ourselves and I think women sometimes get lost in that. I just feel like I'm a new person now and I can be on my own. Yes, I would be devastated if my husband left me. But at the same time, I know that I would be okay, and that's kind of what I was trying to say."
So remember: single, married, dating, or something in between—take care of yourself first and foremost, and everything else will fall into place.