Kaley Cuoco clapped back after someone shamed her for her gym look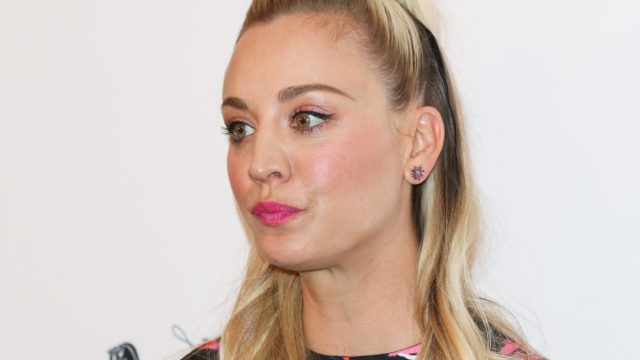 Our favorite sitcom queen Kaley Cuoco is happy to be back in the gym following her post-wedding shoulder surgery, and she has exactly zero time for anyone criticizing her workout attire. Yesterday, The Big Bang Theory actress responded to criticism on Instagram after a commenter decided she wasn't wearing a supportive enough bra.
Just five days after her wedding to equestrian Karl Cook, the actress underwent a pre-planned shoulder surgery. But after two weeks of recovery, Cuoco revealed she couldn't sit still any longer and posted videos from a gym workout to Instagram. However it seems her doctor wasn't too pleased about her removing her brace during her workouts, prompting Cuoco to post another series of videos, this time with the brace.
"When your doc scolds you for not wearing your brace. Alrighty then guess we're doin it this way!" she wrote.
And while Cuoco is crushing it, a handful of commenters felt the need to tell her she needed a "better" bra. One person wrote, "But you could wear a bra!"
To which Cuoco responded, "don't be jealous [...] It's not flattering."
YES.
She then added that while she shouldn't have to explain her bra choices to anyone, her injury is restricting the bras she can currently wear. She wrote, "FYI because of my shoulder, I can only get certain bras over my head NOT THAT ITS ANYONES BUSINESS."
While it's ridiculous that Cuoco should even have to defend herself for, um, having nipples, we're unfortunately not surprised. Body shaming is still an all-too-common occurrence for women in our culture — especially women who "dare" to live in the public eye.
Luckily a number of other fans stepped in to defend the actress, writing that it's really nobody's business what Cuoco decides to wear or not wear to the gym. Others pointed out that the padding in sports bras doesn't always prevent nipples from showing — something every women who has ever worn a sports bra knows to be true.
We're glad to see Cuoco living her best life as she recovers from surgery — wearing whatever she wants.