Kaley Cuoco channeled her inner Britney Spears on "Lip Sync Battle" last night, and it was epic
We can't get enough of Lip Sync Battle on Spike TV – especially since married couple (and possessors of all our relationship goals) Channing Tatum and Jenna Dewan Tatum's showdown that will surely go down in history. We won't be forgetting Tatum in that Elsa dress, Dewan Tatum dancing to Ginuwine, or that Beyoncé cameo anytime soon.
But we have to admit Kaley Cuoco is giving the Tatums' epicness a run for their money. Last night, she channeled Britney Spears' 2001 MTV Music Video Awards' performance of her hit "I'm a Slave 4 U" – yes, the one with the green bikini and gigantic snake.
And of course, Cuoco nailed it, from the Tarzan/Jane-esque vine entrance to the sultry dance moves, to the rock-hard abs (girl, tell us your secrets!) and flowing blonde hair. Oh, and the snake, duh. Because it's not 2001 MTV Music Video Awards Britney without the snake. And yes we're talking about an IRL snake.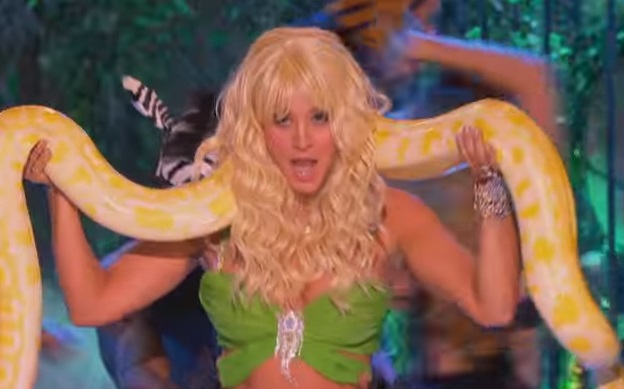 After the performance, Cuoco posted a few Instagram snaps to give us some behind-the-scenes scoop. Like this one, proving she is all of us when confronted with huge unknown reptiles.
But animal-loving Kuoco got the hang of it pretty quickly, according to this follow-up shot that she captioned, "5 minutes later.. We were in love <3 #bts #stevethesnake #slaveforyou @spikelsb".
Cuoco's competition, Josh Gad – AKA Elder Cunningham from Book of Mormon, LeFou in the upcoming live-action Beauty and the Beast, and the voice of our favorite Frozen character Olaf – also brought the hilarity with his rendition of Divinyls' "I Touch Myself"…while dressed as Donald Trump (just in time for the iconic song's anniversary!). Surrounded by other Trump-esque dancers. Swinging atop a toupée-laden wrecking ball. In underwear made of money.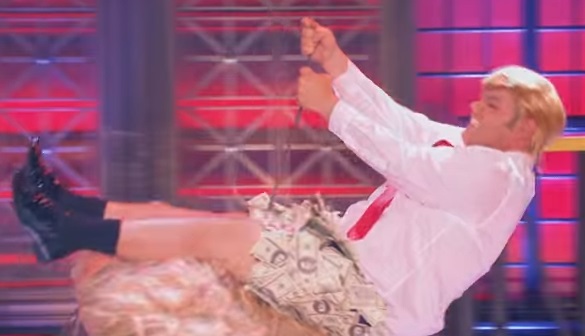 As if it couldn't get any better, Gad is then joined by Cuoco's friend The Big Bang Theory co-star Johnny Galecki, who arrives on a horse. And then they make out, because WHY WOULDN'T THEY!?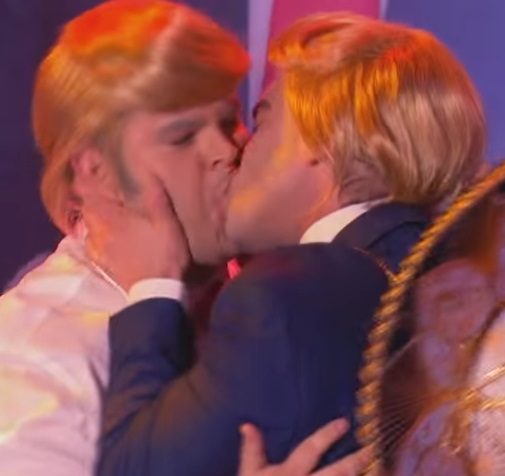 We aren't even sure what to think, except, "Thank you, Kaley Cuoco, Josh Gad, and Johnny Galecki, for making our Thursday night everything we needed it to be."
Watch the entire performance below (Cuoco's starts at about 2:10), and be transported back to the early 2000s with us.
https://www.youtube.com/watch?v=X4kGhL096II
(Images via YouTube/SpikeTV)