Whoa! Kaley Cuoco just posted a borderline NSFW pic with her ex and co-star Johnny Galecki
Um, hello, Penny and Leonard! Probably setting The Big Bang Theory fans' hearts on fire, Kaley Cuoco posted a borderline NSFW pic with her ex and co-star, Johnny Galecki, to Instagram.
In the Polaroid-style photo, on-screen couple Cuoco and Galecki are decked out in super ~sexual~ looks. Cuoco is wearing a low-cut red corset, teeny tiny black shorts, and black fishnet tights. She's also sporting a black leather hat, a whip, and a collar. Galecki's in a barely-there BDSM-inspired harness and collar of his own. He looks super serious, while Cuoco is making a funny, over-the-top sexual face and pose. Ooh la la!
But sorry to disappoint any remaining Kaley/Johnny 'shippers out there – this isn't a snap from Kaley's private collection. It's a photo from behind the scenes of the most recent episode of The Big Bang Theory. "The Veracity Elasticity" has a scene where Sheldon has a nightmare that Penny and Leonard transform his room into a "sex dungeon" after he moves out, complete with his two roommates in full-on BDSM gear.
"#bts of last nights @thebigbangtheory #kaleyspolaroids#corsettook15minstogeton," Cuoco captioned the silly photo, where she tagged her co-star.
Anyone familiar with the uber-popular CBS sitcom is probably familiar (to some degree) with star Kaley Cuoco's love life. Cuoco finalized her divorce from her husband of two years Ryan Sweeting earlier in 2016. She's currently dating Karl Cook, and we're head over heels for their adorable and loving relationship.
In the earlier years of their long-running comedy, Cuoco low-key dated her co-star Galecki for several years, as fans of her character's romance with Leonard are definitely well aware. So when Cuoco first announced her split from Sweeting, some fans were excited that that might indicate a reunion with her former BF.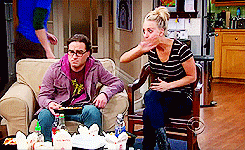 But alas, that 'ship has sailed – Cuoco and Galecki are just the best of friends, a full five years after their breakup. Cuoco even took to Instagram to debunk the reunion (or, worse, infidelity) rumors.
"So sorry to disappoint , but no home wreckers or secret flings going on here. Me and @sanctionedjohnnygalecki are just the best of buds- Leonard and Penny will just have to suffice," Cuoco captioned the cute photo from last October.
We love that, unlike many exes who are also co-stars, these two have been able to move past their relationship and build such a strong friendship. We love even more the fact that they're perfectly willing and able to keep playing their incredibly beloved on-screen pair, despite their romantic history. More Penny and Leonard, please!