Kaley Cuoco hints at an animal rights project for the holidays and we couldn't be more excited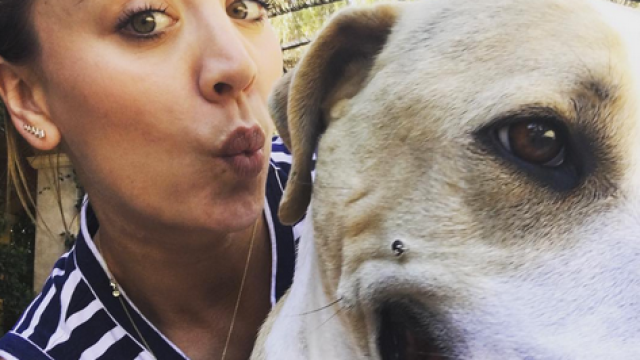 Kaley Cuoco, actress extraordinaire, wearer of awesome leggings, and noted animal-lover, wants you to know she has something exciting up her sleeves for the holidays.
Cuoco is teaming up with Paw Works, an animal rescue nonprofit, and Gold Sheep, an apparel line that prints art and artistic statements on leggings. Mums the word for now on their collaboration, but a girl can speculate! Leggings for the cause, pet adoption, raising awareness of shelter animals, the list is endless.
Cuoco and her partners aren't saying much now, but they did all post the same cute photo hinting at great things to come!
Whatever it is – and we will keep our eyes out for further details – we trust will have an impact. Cuoco has worked closely with Paw Works in the past, finding homes for rescue animals, serving on its board of directors, and raising money to benefit the organization.
In a 2014 interview with The Humane Society, Cuoco shares,
"I want to promote rescue as much as possible. I walk into these shelters, and there's thousands and thousands—and most of them are pit bulls that need rescue. It's just become a big passion of mine, and it will be for the rest of my life.
With the holiday season around the corner, a fun but charitable donation would make an awesome way to close 2016 out strong.