Kaia Gerber gave herself a stick-and-poke tattoo in quarantine—and she doesn't recommend it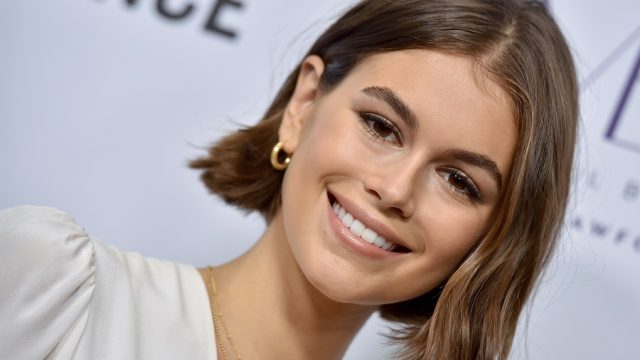 We're all about experimenting with at-home beauty treatments during quarantine. But you'll probably want to heed Kaia Gerber's advice on this one. The model gave herself a stick-and-poke tattoo at home, and she firmly recommends that others leave it to the professionals. We'll just have to wait for those tattoo parlors to safely re-open.
Gerber spoke with Glamour about her DIY tattoo experience as well as all of her more traditional tattoos—and she has a lot. You'd probably be able to tell from that extensive collection, but Gerber said that getting tattoos is one of her "favorite pastimes." Because coronavirus (COVID-19) means she's unable to snag any new ones for a while, she just had to try her hand at her own.
"I didn't get too ambitious. I gave myself a dot, just so I could be like, 'Alright, I got a tattoo this month, I'm cool.'" However, she added, "I do not recommend."
Though she hasn't shared a photo of her new stick-and-poke tattoo, Gerber said, "I think I have a newfound appreciation for tattoo artists. It's not easy."
If you're wondering how the heck someone would even attempt to give themselves ink at home, a stick-and-poke tattoo—also known as a non-electric tattoo—is a little different than traditional ink. Artists give the tats without the machines, tattoo-grade needles, and tubing that salons have. So it's theoretically easier to acquire materials, and it's reportedly less painful.
Why stick-and-poke tattoos? As New York-based tattoo artist Jenna Bouma told Glamour, "The simple answer: less pain, takes longer to craft, heals fast." She added, "The hand-poke method generally causes less trauma to your skin, which means less scabbing and less irritation."
Though Instagram has helped bring the trend to the forefront, these manual tats have been around for thousands of years.
"In a historical sense, non-electric tattoos have been used as a status marker, an expression of beauty, and an open act of rebellion. It was and still is important to certain cultural groups," Bouma said.
As for her *professional* tattoos, Gerber has trouble picking favorites. But she did call out one in particular."
When asked if she had a favorite piece of ink, she said, "I have a Picasso painting on my arm. That was one of the first ones I got, so maybe that one."
Her Picasso artwork tattoo was done by JonBoy, a celeb-fave artist.
But Gerber loves all the ink she does have, telling Glamour, "I think I was so worried I was going to regret every tattoo I got, and they all represent such an important time in my life, even if the tattoo itself doesn't have much importance. It's like they're all memories, so I don't feel like I could ever see myself regretting them."
We can't wait to see her new ink in action. In the meantime, we'll just be admiring all the gorgeous stick-and-poke posts popping up on our feeds lately.