Kaia Gerber went for the scissors again with a much shorter bob cut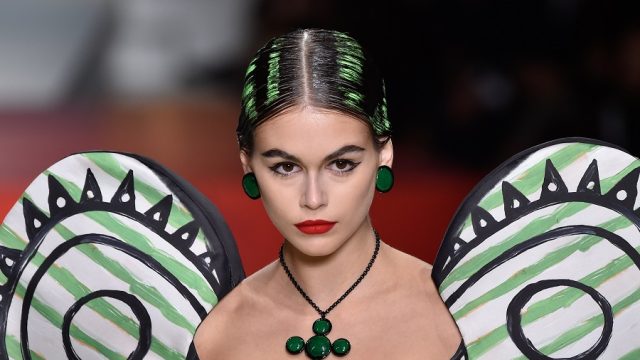 We've been following Kaia Gerber and her evolving style ever since she made her runway debut (at New York Fashion Week, to boot!) back in 2017. While she's gone from budding model to bonafide style icon in the time since, she's always been known for twinning with mom Cindy Crawford in the beauty department. Especially with their nearly identical long, brown hair.
But back in June, the 18-year-old went for the scissors and debuted what she called a "drama cut" on Instagram. The haircut helped kick off the celebrity bob brigade that launched a million lob and bob cuts on nearly every famous face you know, from Ashley Benson to Kristen Bell and beyond.
Now, the bob trendsetter herself has gone even shorter with her strands, taking her chin-length, wavy bob haircut into an ear-grazing, angled chop. It's picture proof that there are endless ways to style a bob. Even just shearing off a couple of inches can dramatically transform your tresses, as evidenced by Gerber's brand new bob created by stylist Guido Palau.
First, let's reminisce about the not-so-distant past, when Gerber sported long, mermaid waves back in May, before taking the plunge to a bold new look.
Then, there's her summer bob that launched a million celebrity copycats and had us calling our stylists for our own version.
Finally, it seems Gerber wanted to end her year on an even shorter hair note, because by December, she went for her shortest haircut yet. She's sported it on the runway and off, styled in a variety of ways, so we know she's serious about this look.
It seems that her short bob cut has been a long time in the making, with Gerber telling Vogue UK that she was inspired by the late Kurt Cobain for the switch-up. As she told the magazine, "For so long I felt this pressure to have the long, pretty hair that everyone expects you to have. Then I asked myself who I was doing that for—I could cut my hair if I wanted to cut my hair. And I did."
While we have a feeling she'd look fabulous with any haircut, we especially love the empowered vibes behind this cut in particular. A truly badass move indeed–we're inspired (and officially obsessed).