Kaia Gerber dyed her hair blonde, but we were so distracted by her cast we almost missed it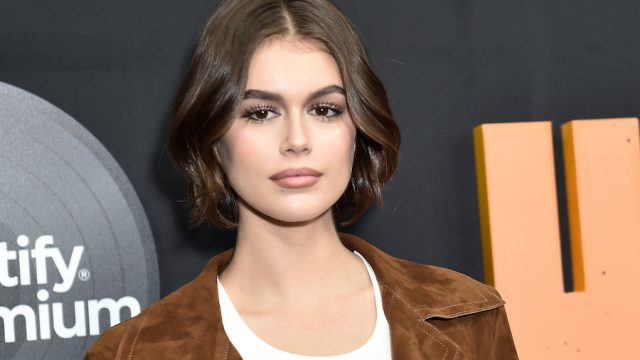 In quarantine, we've been plagued with many big, pressing questions: When will it end? Where do we go from here? Should I bleach my hair? Okay, the last one is not quite as pressing, but quarantine hair transformations have certainly been on our mind as we think of ways to take advantage of this extra time indoors. Apparently, we've been in good company, as model Kaia Gerber didn't just think about going blonde—she just actually went for it. Gerber shared a series of photos on Instagram with her freshly lightened locks, but you could have easily missed the change if you (like us) were distracted by the huge cast on her arm.
On Sunday, Gerber posted a mirror selfie in a bikini with a bright blue cast on her right arm. She spared us the details about what actually went down simply stating that she "had a little accident." It's not your typical hair reveal post—she's really just debuting her new protective gear and cute swimsuit—but we couldn't avoid talking about the new blonde action, especially because the model typically tends to keep her hair pretty consistent.
Gerber's dark brunette bob is now light brown with golden honey blonde highlights, and we're declaring this the perfect summertime hairstyle.
In her first post, the highlights look pretty subtle, but you can see the change even more in her next post, in which she's lounging in the pool and using her cast as the "perfect book stand."
Added bonus: Gerber gave us all a book recommendation. She's reading As It Lays by Joan Didion and she urged her followers to read the book and bring their questions to her Instagram Live discussion with Emily Ratajkowski on Friday at 5 p.m.
In her most recent post, Gerber proves to us that she is still getting the model job done, cast and all. Posing carefully with a Marc Jacobs fragrance, she admitted in the caption, "this is hard, but I smell great." And the hair looks great, too.
Between her reading list, the pool, her DIY stick-and-poke tattoo, and her new blonde hair, Gerber is living her best quarantine life. We are loving the way the lighter color looks in the sun and we're even more convinced that we may need to a new at-home hair coloring project ourselves. (Sorry to our hairdressers in advance.)
As information about the coronavirus pandemic rapidly changes, HelloGiggles is committed to providing accurate and helpful coverage to our readers. As such, some of the information in this story may have changed after publication. For the latest on COVID-19, we encourage you to use online resources from CDC, WHO, and local public health departments, and visit our coronavirus hub.