The style evolution of K-pop boy band BTS, from matching tweed suits to electrifying ensembles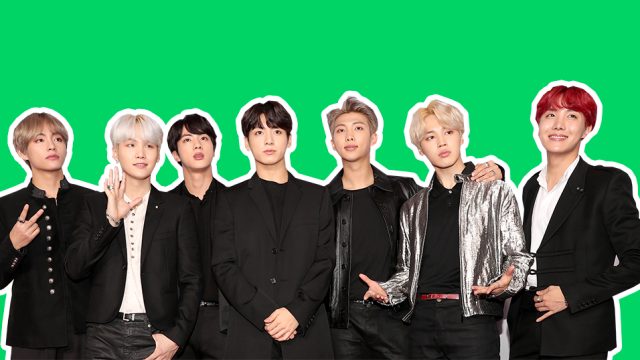 Whether you're living deep in the world of K-pop fandom or you're just a casual onlooker, it's likely you've heard of the seven wunderkinds (now adults) known as BTS. The band, whose name stands for Bulletproof Boy Scouts, Bangtan Sonyeondan, or Beyond The Scene (depending on your preference) has been blessing the airwaves with nonstop pop hits and truly surreal videos since 2013.
It's hardly surprising that BTS has rapidly gained fans outside of their loyal base in South Korea. Compared to American counterparts like *NSYNC or 98 Degrees, BTS feels like a boy band experience on acid. Not only do they rip up the dance floor with a musical style that seamlessly transitions from pop ballads to rap interludes, they coordinate ostentatious tour outfits—and they all look adorable doing it.
Since most of us can't expertly sing and dance with our BFFs for a living (only in our dreams), keeping tabs on the style evolution of BTS is not only fun, but it feels more achievable to copy than attempting their dance routines. Plus, BTS brings the heat when it comes to fashion. They wear clothes that range from bold colors to wild prints and patterns. In short, they aren't afraid to experiment with their style.
In celebration of the group's killer ensembles, let's take a look at the evolution of their style, starting from the beginning.
12013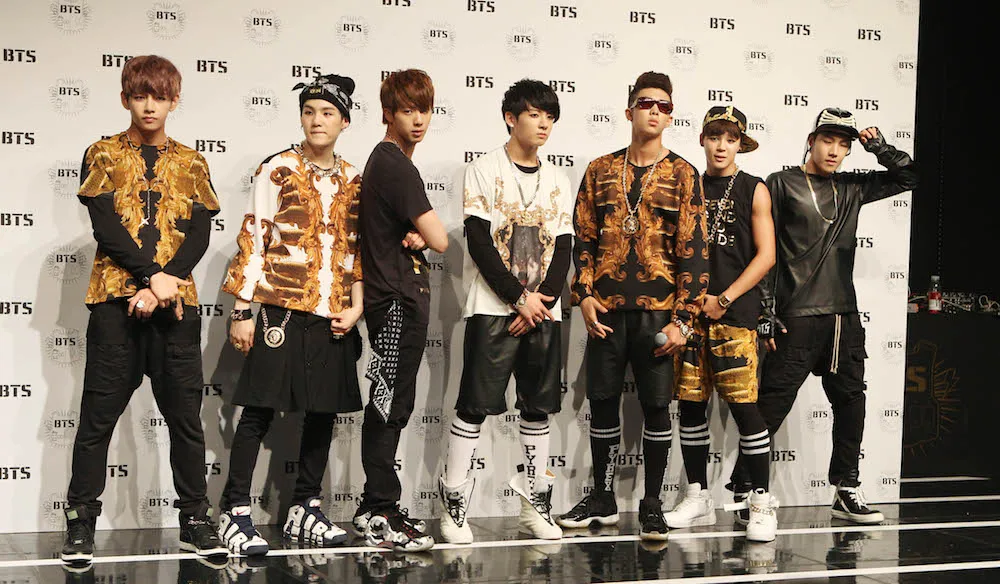 All seven of them look like they just finished a breakdancing session…or a soccer game. They asserted fashion dominance straight out of the gate by pairing knee socks with gold chains and sneakers. It only feels fitting they trotted this look at the Ilchi Art Hall in Seoul, since this collective ensemble is a work of art.
22013
As you can see here (at the Ilchi Art Hall once more), the group's love of gold chain necklaces was a consistent marker during their early fashion days. They not only owned it, but this was the start of their flashy outfits. We especially love Jimin's sleeveless jersey-style tee with the double jewelry and sideways hat.
32014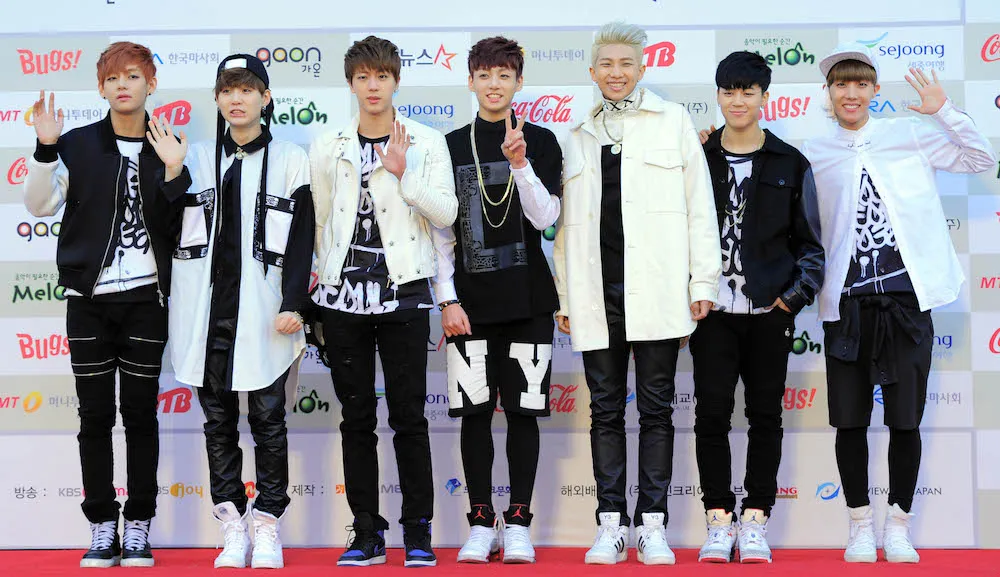 BTS looked like they were plucked straight out of a fashion winter wonderland while attending the 2014 Gaon Chart K-pop Awards at Olympic Park. The pristine white sneakers paired with white prints and accents served as a nice departure from their black monochrome looks in 2013. Shout out to J-Hope for his matching white cap, jacket, and sneakers.
42014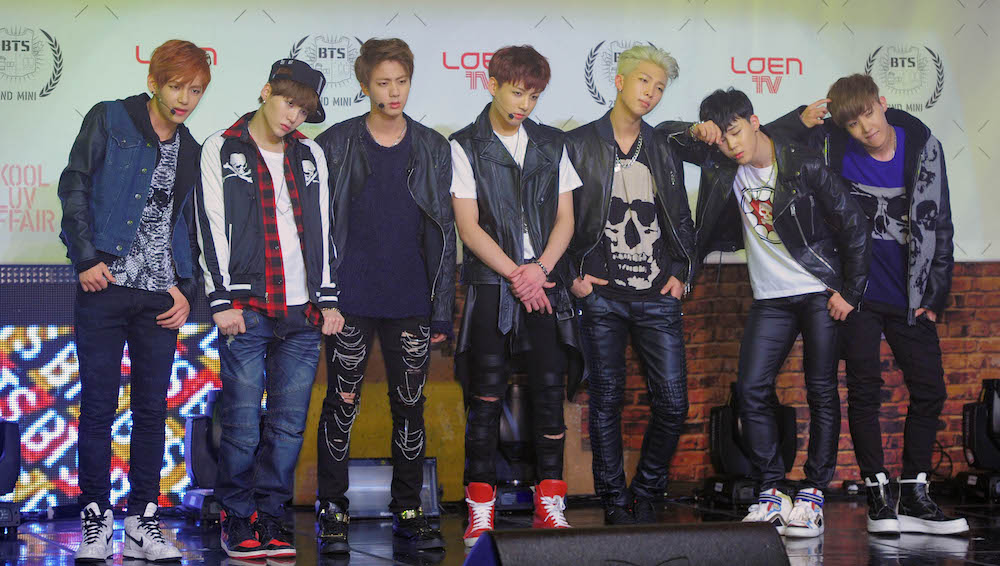 During an appearance at the Lotte Card Art Center, the boys showed off their affinity for skulls and crossbones. From their leather jackets to the skull-emblazoned bomber to the skull tee, the band's ensemble is a mood.
52014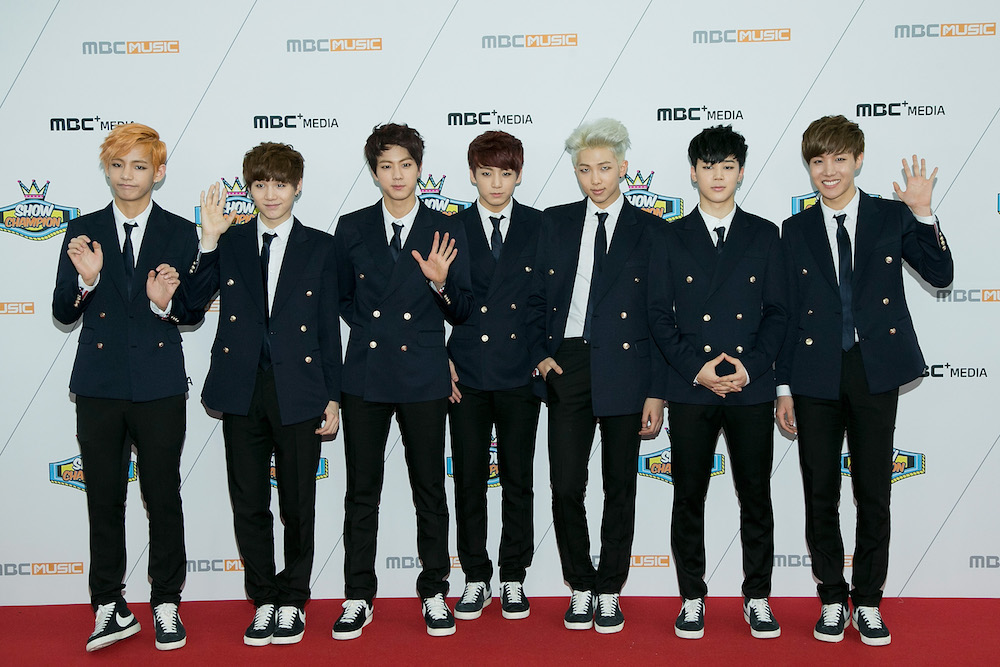 BTS showed up as babes in blue during an appearance on the MBC Music "Show Champion" in Seoul. They tend to coordinate color schemes and wore matching blazers, pants, button-downs, ties, and sneakers.
62014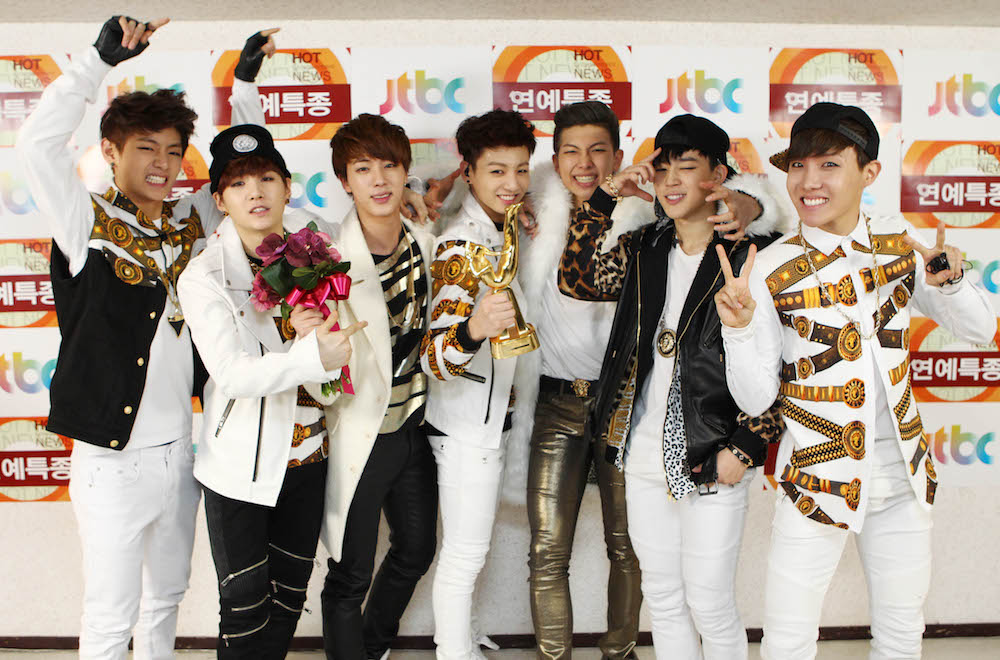 Our faves proved they were NOT finished with gold accents when they rolled through to the 28th Golden Disk Awards. We've got white button-downs with graphic prints, gold pleather pants, and a splash of leopard print. Fran Drescher would absolutely approve of these ensembles.
72014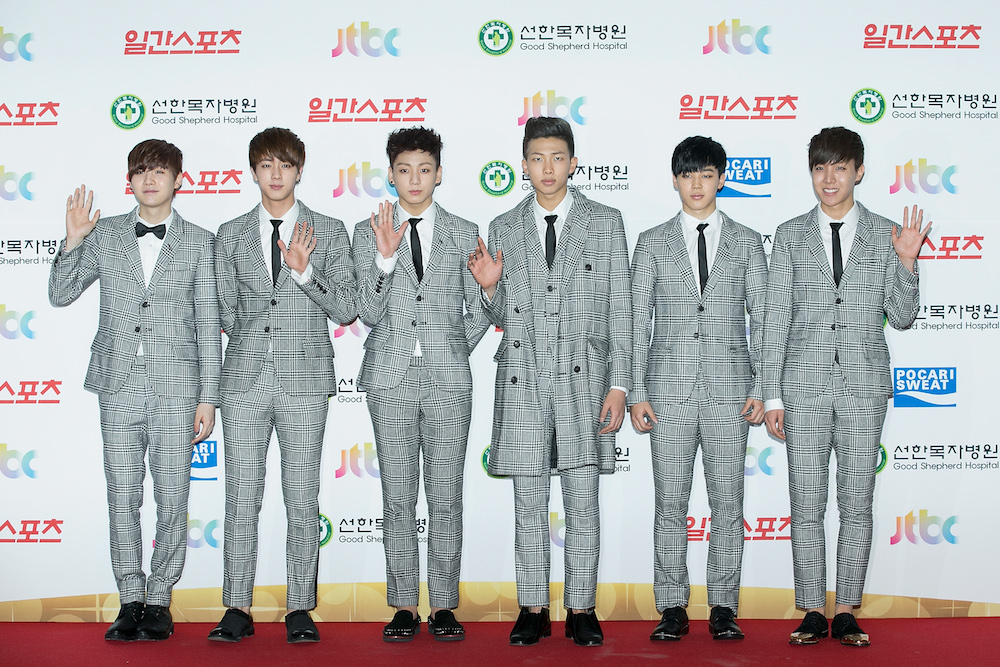 Naturally, BTS was not going to stick with just one look at the 28th Golden Disk Awards. This was a chance for them to show off their versatility. For this collective look, they suited up in gray tweed and black shoes. In combination with the swooped hairstyle (and the rare moment in which they all had naturally dark-colored hair), this look almost feels reminiscent of The Beatles.
82014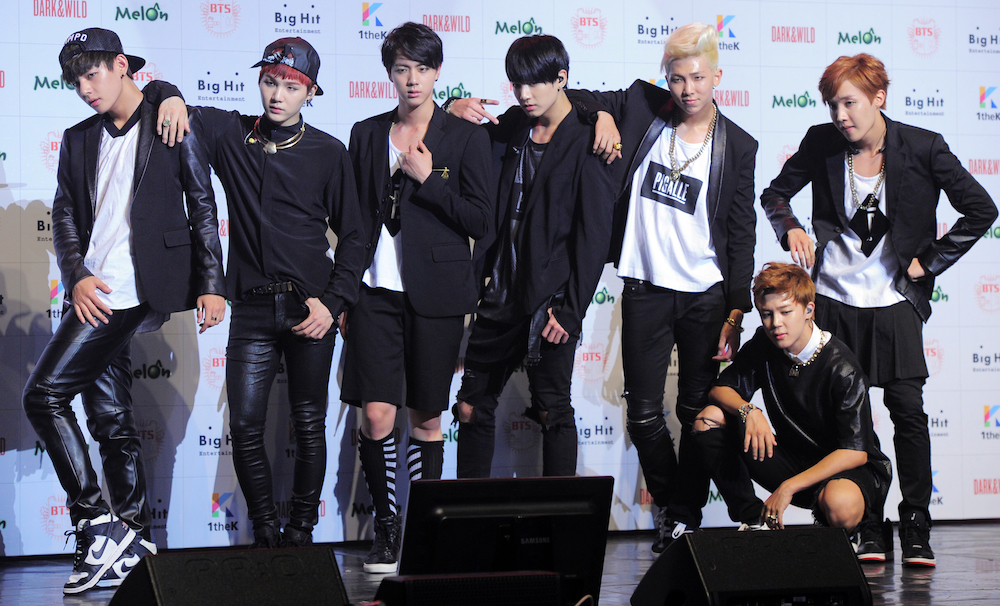 They brought out smoldering club looks at their "Dark & Wild" showcase at Blue Square. These are some well-cut suit jackets, strategically tilted hats and chains, and, of course, a few choice pairs of pleather pants.
92015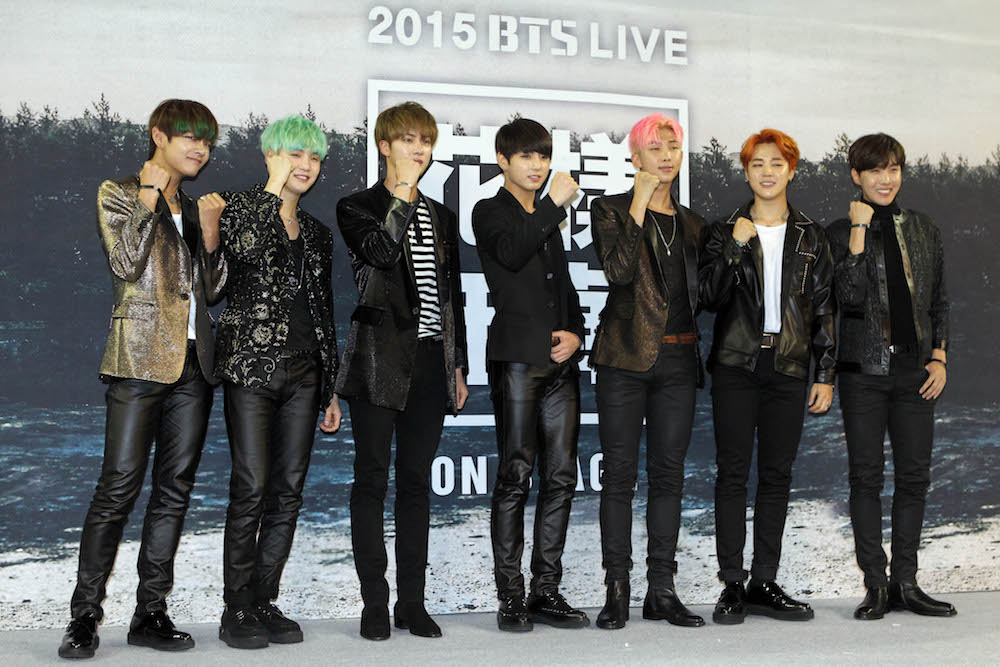 This Olympic Park press conference look screams My Chemical Romance. The swooped, candy-colored hair adds a nice touch to their dark outfits.
102015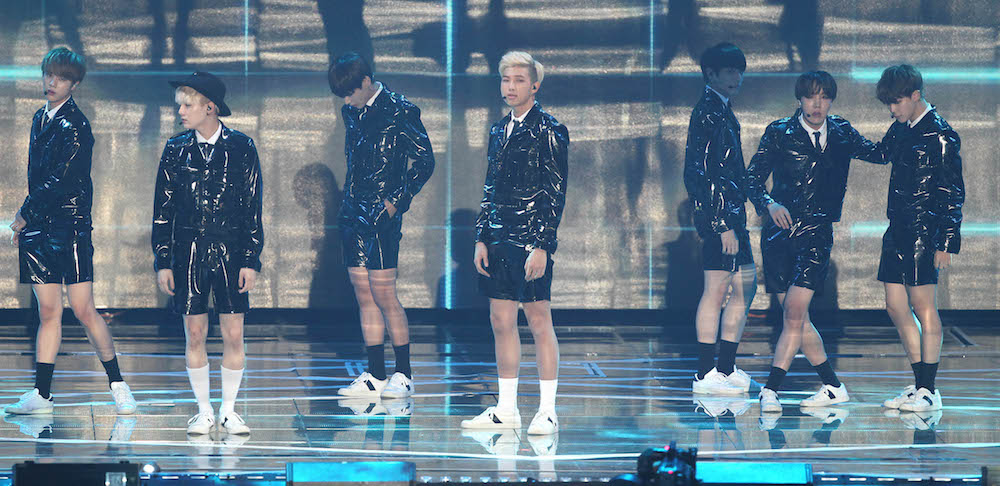 Their stage look at the 2015 Melon Music Awards was TO DIE FOR. The matching patent leather jackets and shorts was everything. This is giving us 1980s music video vibes.
112016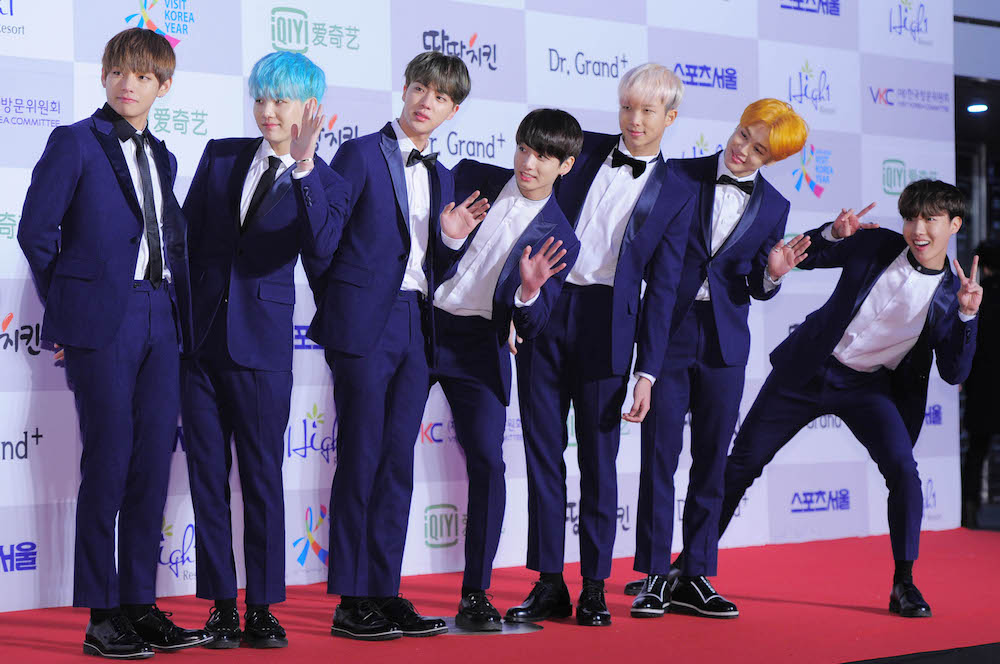 We see our babes crushing the 25th Seoul Music Awards, dressed in electric blue suits. Jimin's white-trimmed shoes take the cake for best shoes in the lineup.
122016
The world was once again blessed with the sight of BTS wearing matching colored suits at the 5th Gaon Chart K-Pop Awards. This time, the band left behind the traditional suit world of blues and grays and went for a red wine shade. They look ready to visit a vineyard after the show finishes.
132017
BTS rolled onto the scene at the 2017 American Music Awards fully prepared to win over the loyalty of American fans. Of course, they dressed for the part. Everything from their fitted jackets to their shoes to their pants screams classic boy band.
142017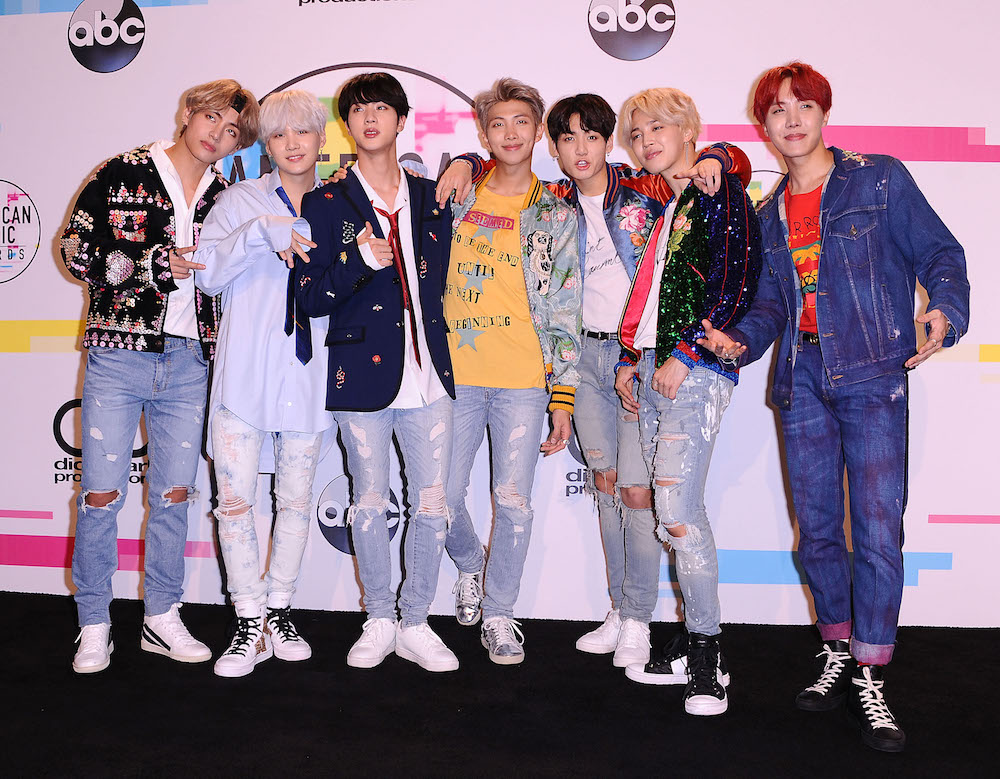 Obviously, the 2017 AMAs weren't BTS's first red carpet rodeo, and they were fully ready to change outfits at the drop of a hat. Here, we see their casual denim-clad lewks, complete with patched jackets and freshly torn holes in the knees. I'm fully feeling V's headband and ugly sweater; it's the perfect pairing for his freshly torn jeans.
152018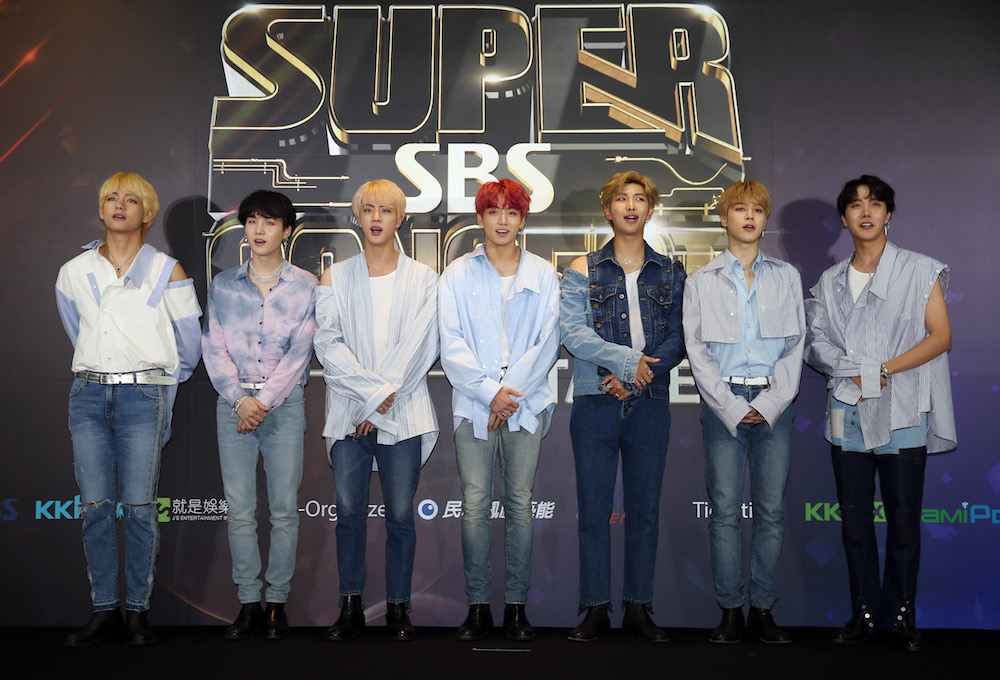 While BTS is a full-on boy band, most of their apparel wouldn't fall under the umbrella of straightforward preppy clothing. Case in point: When they attended the SBS Super Concert, they all dressed like they shopped at J.Crew, then cut up their own shirts. This is to say, their outfits had the pale blues and stripes beloved in many suburban homes, but the cuts and drapes of the tops were unconventional and added edge to the outfit. The alt-preppy factor was elevated by the fact that over half the members went blonde.
162018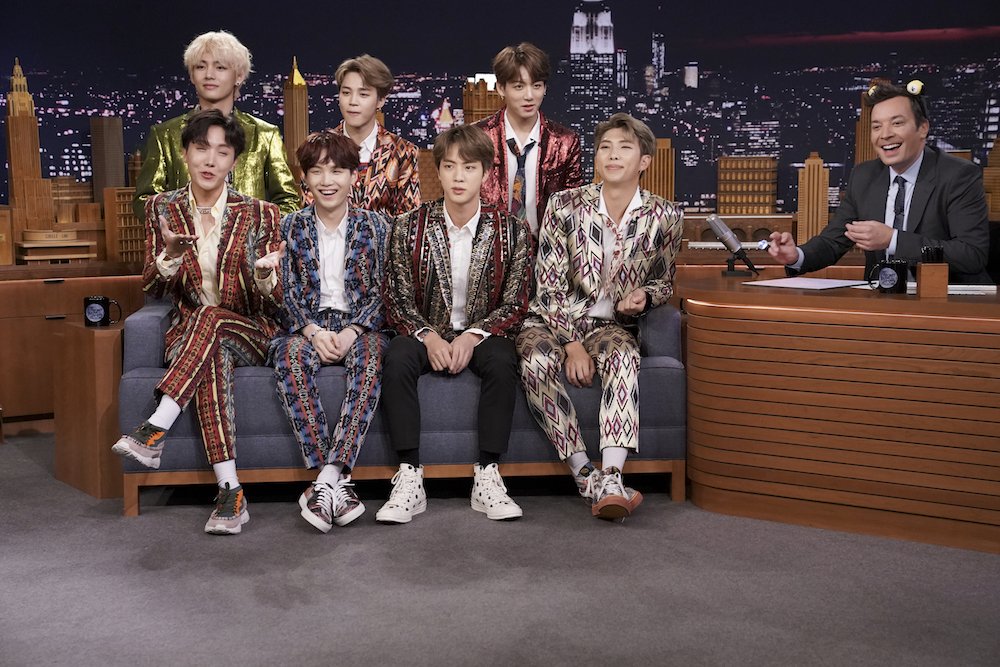 Clips of BTS's appearance on The Tonight Show starring Jimmy Fallon immediately trended on Twitter due to their impeccable attire. Their gaudy statement suits were runway levels of ornate, and in their delightfully playful manner, the band paired the suits with patterned ties and comfortable sneakers.