Justin Trudeau brought his littlest son to work, and the cuteness overload is real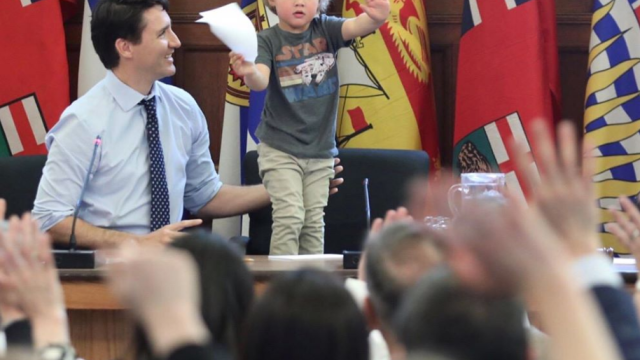 People can't get enough of Canada's hunky and oh-so-likable prime minister. And this week, he secured his place at the top of the list of Most Likable Current World Leaders. That's because Justin Trudeau brought his three-year-old son, Hadrien, to the office, and it's the cutest thing to ever have happened in Canadian history (probably).
Living up to his name, the moniker of a Roman emporer, young Hadrien looks like he fits right in at the top spot of Canadian government, and he's also incredibly cute. What can we say? It's…genetic. Yep, Justin Trudeau is good at yoga, he's a feminist with a good butt, and he's Father of the Year. No, these qualities shouldn't be remarkable, and yet, here we are.
Check out the cute pics of Young Trudeau.
We're guessing that Hadrien was perfectly eloquent when answering questions from the prime minister's desk. (Bonus points to Hadrien for wearing that Star Wars shirt.)
They played some Parliament-style hide and seek.
https://www.instagram.com/p/BT9QVRbhsMV
THIS IS THE CUTEST DUO WE'VE EVER SEEN!
They also ran through the halls together.
https://www.instagram.com/p/BT7t-vGgEcb
We will root for Team Trudeau in any race, on foot or otherwise…
And they hung out together in the House of Commons.
Cannot. Handle. The. Cuteness.
While Hadrien is exceptionally cute now, the chances of him turning into a hunk later are quite high.
Remember when these photos of a young Justin Trudeau surfaced?! false
Let us remind you of these glorious photos: false
Politics has never been so sexy! And seeing JT as a loving father only confirms our lust — oops, we mean respect — for the prime minister. Oh yes, gotta love the Trudeaus, it's TRUE-DOE!