Justin Timberlake and Jessica Biel are #RelationshipGoals in this short but sweet Instagram post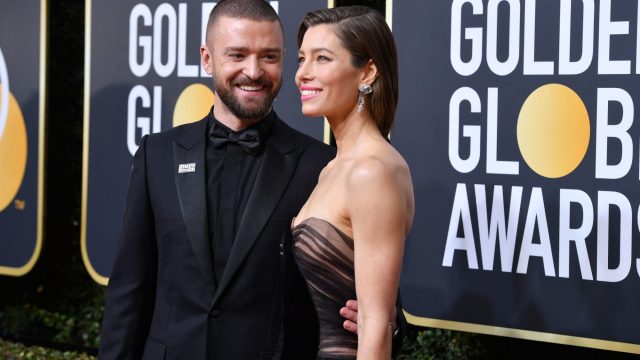 The world uttered a collective *aww* when Man of the Woods artist Justin Timberlake shared a seriously cute Instagram post on Saturday, April 7th. While his Insta feed has been full of mostly concert photos in recent weeks, Timberlake finally took the time to share a sweet snapshot of himself and his wife, The Sinner actress Jessica Biel. Though the post was technically hashtag-free, we're saying it for him: Those two are absolutely #RelationshipGoals.
Timberlake and Biel got married back in 2012. They were initially tight-lipped about their relationship and family life, and even avoided walking the red carpet together early on. Lately, though, they've been a lot less shy about showing the world their love — and we're loving it.
The "SexyBack" singer's Instagram photo was simple, yet sweet. We don't actually see Biel in the post — not her face, at least. But it's the four words in Timberlake's caption that had fans leaving heart emojis in the comments:
"She's got my back."
Admittedly, it wasn't always smooth sailing for the spouses. The two actually broke up in 2011, a sad roadblock in their coupling that was announced in this press statement:
"Addressing the media speculation regarding Jessica Biel and Justin Timberlake's relationship, we are confirming that they mutually have decided to part ways," People magazine reported at the time. "The two remain friends and continue to hold the highest level of love and respect for each other."
Biel isn't afraid to show her love for her partner on social media, either. In March, she posted a video of Timberlake kicking off his Man of the Woods tour and professed how proud she was of him.
We just love these two! Keep on being adorable, guys.