Justin Timberlake just dropped a surprise single, and it's officially your new song of summer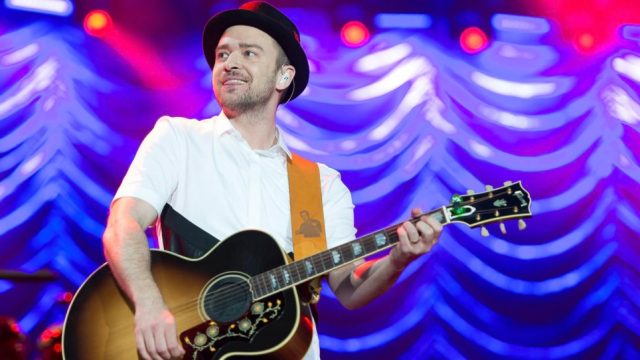 On February 2nd, pop icon Justin Timberlake dropped his much-anticipated album, Man of the Woods. And today, July 3rd, he dropped a brand new, totally surprise single called "SoulMate." It's an early Fourth of July miracle!
According to Complex, "SoulMate" comes out of the same production company that produced Drake's "Hotline Bling," "One Dance," and "Too Good," as well as several other hip-hop favorites. And the song comes in the wake of rumors that JT and Drake are planning to team up for a new collab (Timberlake recently told Complex that, "we've talked about it a lot," regarding a potential joint creative endeavor).
It's likely no coincidence that Timberlake dropped his new song a day before July 4th — the opening line of the super smooth track boldly declares, "Summer starts now," before Timberlake sings, "I want to be your soul mate for the night." 
You can listen to the full track below:
https://www.youtube.com/watch?v=fKITRHSWCow?start=3&feature=oembed
And Twitter is into it.
false false
SoulMate is currently streaming on all major music platforms, including Spotify, Apple Music, iTunes, and GooglePlay.
[Intro]
Summer starts now
[Verse 1]
I love your heartbeat givin' me rhythm
And I can feel your frequency, so unique
In other words, such a freak, set me free
[Pre-Chorus]
I wanna be, wanna be
I wanna be, I wanna be your—
[Chorus]
Soulmate, for the night
Let me put my soul on you, it's only right
Let me pull you up out your body, into mine
Let me be your soulmate for the night
[Post-Chorus]
Just for the night, for the night
Just for the night, for the night
Just for the night
[Verse 2]
Two rhythms turn into one heartbeat, yeah
Magic when you get close to me
And we can disappear
Make it disappear, that's too many clothes for me
[Pre-Chorus]
I wanna be
I wanna be, I wanna be your—
[Chorus]
Soulmate, for the night
Let me put my soul on you, it's only right
Let me pull you up out your body, into mine
Let me be your soulmate for the night
[Post-Chorus]
Just for the night, for the night
Just for the night, for the night
Just for the night, for the night
Just for the night, for the night
Just for the night
[Bridge]
Whatever you believe in could be real
'Cause I believe in miracles
So please right now, you and me right now
We could live our dreams right now
First, lay down
[Chorus]
I'ma be your soulmate (ayy), for the night
Let me put my soul on you, it's only right
Let me pull you up out your body, into mine
Let me be your soulmate for the night
Just for the night
Soulmate for the night
Let me put my soul on you, it's only right
Let me pull you up out your body, into mine
Let me be your soulmate for the night
[Post-Chorus]
Just for the night, for the night
Ooh, whatever you believe in could be real
Just for the night, for the night
Just for the night, for the night
Ooh, whatever you believe in could be real
Just for the night, for the night
Just for the night
[Outro]
Ooh, whatever you believe in could be real
I love your heartbeat, ayy
I love your—whatever you believe in could be real
I love your heartbeat
I love your—