Here's why Justin Timberlake does NOT regret his infamous fashion moment with Britney Spears
The early 2000s were filled with questionable fashion choices, and we won't lie—we all fell victim to them. Hip huggers, UGGs, and velour tracksuits are just a few examples of what some may consider fashion faux pas. But those are barely a blip on the radar when up against one of the most memorable his-and-hers couple outfits to ever hit the red carpet: Britney Spears and Justin Timberlake's denim-on-denim-on-denim-on-denim American Music Awards lewk.
Although the pair caught a lot of flack for those outfits (even back in the day), Timberlake says he has no regrets. On March 19th, he sat down with fellow former NSYNC member Lance Bass on Bass's podcast The Daily Popcast. The interview was part of Bass's "The *Nterviews" special, which commemorated the 20th anniversary of the boy band's 2000 No Strings Attached album. The pair talked about the good old days, and Bass, dripping with sarcasm, just had to bring up that iconic denim outfit.
"I don't know man, you could kinda rock that today," Timberlake responded. "Look, man, you do a lot of things when you're young and in love, man. That's what you do."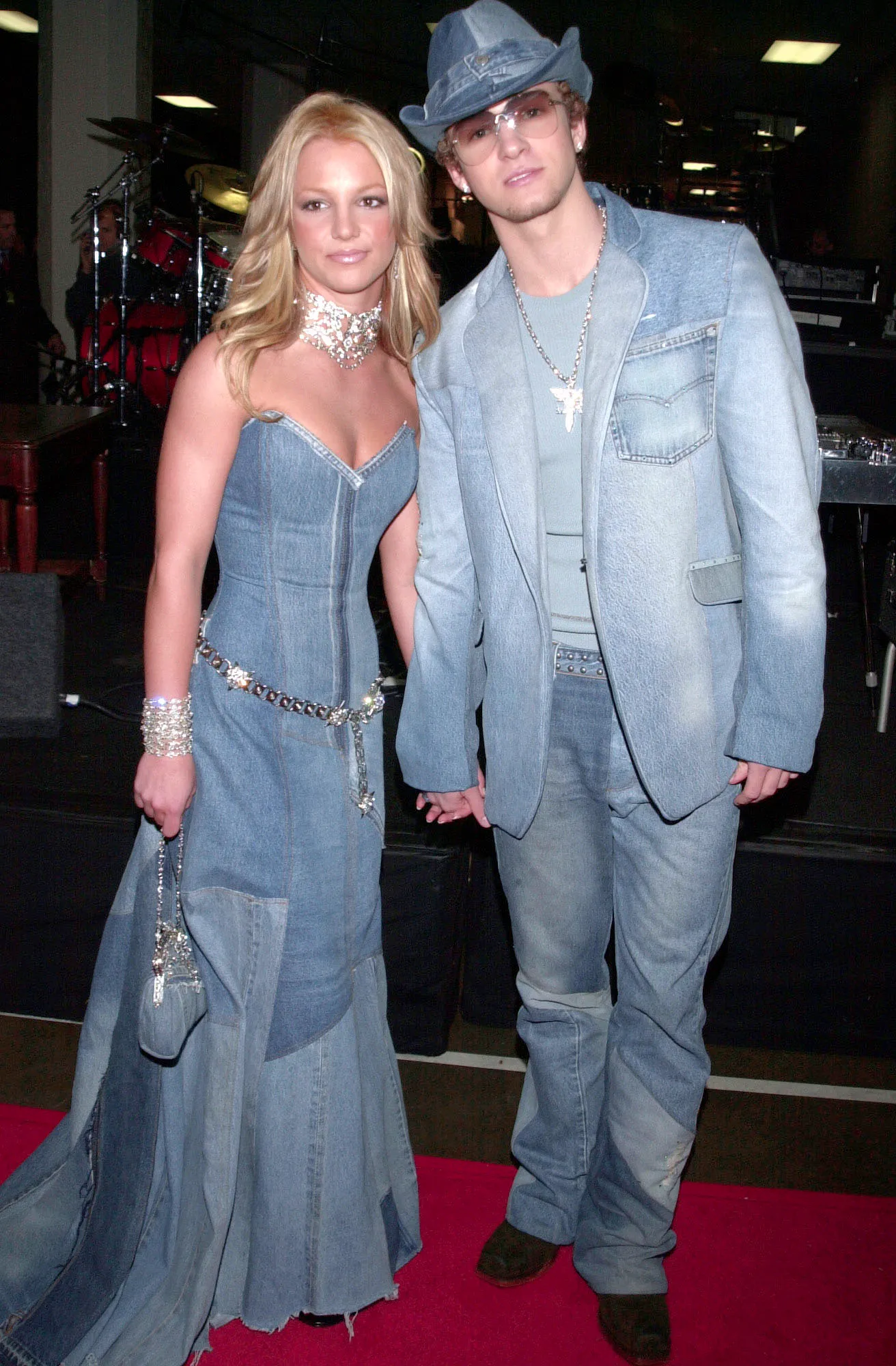 To be fair, the looks being served 20 years ago were all off the charts in a less-than-desirable way. Bass himself once rocked those spiked, frosted tips that kind of give off Guy Fieri vibes (no shade or anything). And remember when bandanas became big?
"I think I just started wearing bandanas because I couldn't figure out what the hell to do with my hair," Timberlake said. Fair enough.
"If we could have only been a decade earlier…where everything wasn't so documented," Timberlake added. So maybe there is a tinge of regret after all.
If you don't remember (though how could you forget?), Timberlake and Spears wore the matchy-matchy denim outfits to the 2001 American Music Awards. Spears hosted the awards ceremony, and she's since said that it was her idea to match her then-boyfriend on the red carpet.
The takeaway from this? You know you're in love when you're okay with matching your denim-on-denim tuxedo with your partner's denim-on-denim gown. Now that's true love.