Justin Theroux and Sam Heughan bow down to the women of The Spy Who Dumped Me, as we all should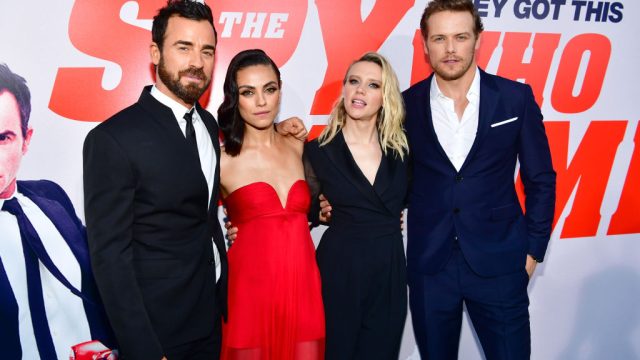 Justin Theroux and Sam Heughan are excellent in The Spy Who Dumped Me. They alternate between high-octane action scenes and funny comedic moments with ease. But the true stars of The Spy Who Dumped Me are the women, both on and off camera—which is something that Theroux and Heughan celebrate.
In addition to Mila Kunis and Kate McKinnon playing best friends Audrey and Morgan, we can't forget Ivanna Sakhno as Nadedja, the terrifying gymnast/assassin hybrid, or Gillian Anderson as Wendy, "the Beyoncé of the government" (as Morgan reverently deems her). And, of course, steering the ship is brilliant co-writer and director Susanna Fogel.
The Spy Who Dumped Me is ruled by women, and the men bow down—as we all should. I spoke with Theroux and Heughan about their experiences working with Kunis and McKinnon in particular.
"They're amazing," Theroux told HelloGiggles. "Mila's got this really loose, hilarious kind of way of performing, which was fun to work with. Kate has this almost academic way of breaking down the comedy and creating alts on her script and different lines that she wants to try out. It is sort of ebony and ivory, in a way. They complement each other really well and have obviously great chemistry together. Watching them both work was really fun."
When I asked Heughan to name the highlight of working with Kunis and McKinnon, he couldn't narrow it down to just one thing.
"They are just so remarkable, individually, for their skills as actresses, Heughan told HelloGiggles. "They're really strong, extremely funny. Kate is hysterical. SNL is incredible, I was a big fan. Mila, I've watched her movies for many years and always been a big fan. To have them together—they're just this great couple. This great friendship. And you can see it. They met to make this movie, they didn't know each other before, but you feel like they've been friends for forever. They are just so much fun to work with.
At times during The Spy Who Dumped Me, when Audrey and Morgan laughed, I often wondered if their giggles were genuine, coming from Mila and Kate rather than their characters. Heughan confirmed that more often than not, it was probably the women cracking each other up IRL.
"[Their laughter is] infectious. Especially Mila, she has a great laugh. As soon as she starts going, I think everyone goes, Heughan continued. "And to be the straight guy opposite that is actually pretty tough. It was really hard. Obviously, the character Sebastian is pretty buttoned up and serious. He's in a really tough situation, and we have these two extreme characters.
Heughan said he learned a lot from working with both Kunis and McKinnon.
"Every take was different. They were constantly ad-libbing and making things up. As an actor, at first, it was pretty intimidating to be faced with that. But actually quite freeing as well. I learned a lot watching them work.
The Spy Who Dumped Me is now playing in theaters.