Justin Theroux just shared a #tbt with his "high school sweetheart" Elizabeth Banks, and it's seriously hilarious
Justin Theroux seems to be the ideal guy. He's got a crazy-amazing marriage with Jennifer Aniston — who he has mad respect for — and he's got a killer sense of humor, as well. In fact, when he was promoting The Girl On The Train, it was great seeing the fun, friendly chemistry he had with Emily Blunt while hitting up the talk show circuit. As it turns out, he often becomes buddies with his co-stars. And that's probably the reason why he just shared this funny picture on Instagram, featuring Elizabeth Banks.
Back in 2005, the two starred in The Baxter, where they played two love-struck teens.
Hey, while we're happy that Theroux doesn't have braces in real life, he doesn't appear super terrible with them on. I mean, with the right accessories, he can totally pull off this kind of look!
Theroux also made sure to include a Trump joke in there as well, with the hashtag of "#badombres" — and judging by the spelling, we're guessing he's talking about the crazy hair choices in this particular photo.
You might not remember The Baxter, but it was a film written and directed by Michael Showalter, probably best known from The State and Wet Hot American Summer.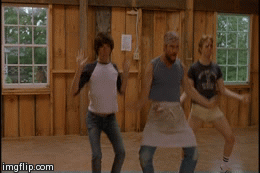 Aside from Banks and Theroux, it also starred Michelle Williams, Michael Ian Black, and Showalter himself.
We're so glad that Theroux has no problem reminiscing on past films. But suddenly, we're in the mood to buy a turtleneck for some reason…