Justin Bieber adorably geeked out over the Walmart yodeling boy at Coachella, and there's video to prove it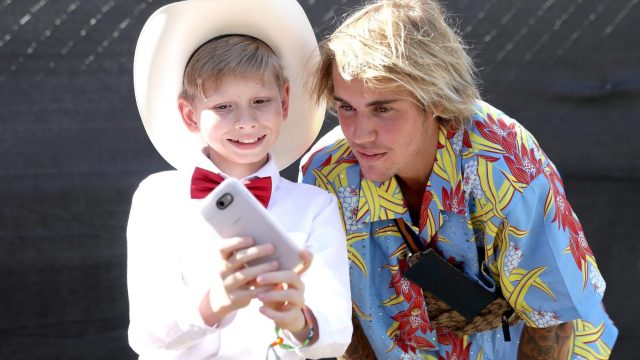 If you don't know who Mason Ramsey is, you're probably more familiar with his unofficial nickname: the Walmart yodeling boy. He's an 11-year-old with a big cowboy hat and even bigger voice, and he recently rose to internet fame after a video of him singing at his local Walmart went viral on Twitter. Since then, the Walmart yodeling boy has been appearing all over the place. The Ellen DeGeneres Show, a kickass EDM remix, and even Coachella — where it seems Justin Bieber was pretty stoked to see him, according to reports.
Mason joined DJ Whethan on stage at Coachella on Friday, April 13th, and the audience went wild. And while Coachella crowds are always filled with celebs, Bieber looked especially psyched to watch Mason do his signature yodel.
Not only did Bieber appreciate Mason from the audience, he also went and met the Walmart yodeling boy backstage. Fan videos posted to Twitter show the Biebs dancing along during Mason's performance and, later, sweetly asking the newly minted child star if this was his first Coachella.
After all, Mason and Bieber probably have more in common than you might think. Bieber started on the music scene when he was really young, too. He's famously struggled with that early exposure, getting arrested for a DUI in 2014 and finding himself in some very tough times over the years. So, it's not a stretch he'd want to be extra nice to someone in a similar position.
Then again, Mason's yodeling is a far cry from pop music. Let's hope his rise to fame goes a lot smoother!
Here's Justin Bieber grinning from ear to ear during Mason's performance and chatting with him afterwards:
https://www.youtube.com/watch?v=7DTnJhbCdRo?feature=oembed
We couldn't be happier to see the Walmart yodeling boy take his talent to the big stage. We're sure all of us (and Bieber) will be hearing much more from Mason in the near future.