Justin Bieber just debuted two new, massive tattoos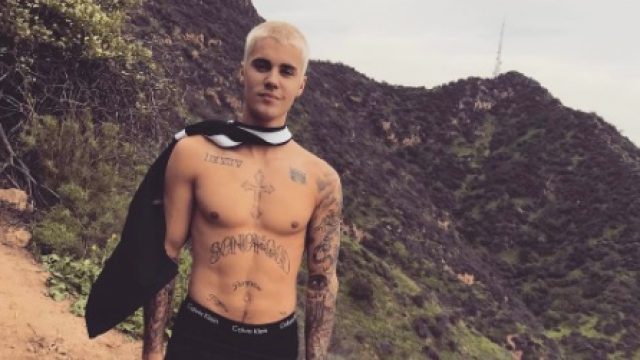 Justin Bieber is no stranger to "the ink" (as literally no one but us calls it). He's had a sleeve on both arms for several years now, and we could pretty much pick his chest out of a lineup thanks to his iconic crucifix. And now Bieber introduced two more tattoos in a shirtless selfie — specifically a bear and an eagle. Or, more accurately, a GIANT bear and a GIANT eagle on his chest and torso.
The roaring grizzly is positioned on the right-side of his chest (our right, his left) and the eagle sits in the middle of his torso right above his belly button, wings spread wide.
Here's a snap of the tats (lighting is a little rough, but you get the gist!):
https://www.instagram.com/p/BR5Jb7kgGQK
For context, this was how his chest and torso looked previously:
Justin has well over 50 tattoos at this point (at only 23 years old), so we have a feeling he might be breaking some tattoo-related records in his lifetime. He even has a (teeny, tiny) face tattoo next to his right eye, and we're betting it's not the last.
https://www.instagram.com/p/BFHuqjaAvoZ
And to all of this we say: YOU DO YOU, JUSTIN! It's your body, and you work hard, so have at it. Not to mention, we're wishing him all the luck on his current world-wide Purpose tour. It goes from March to September, and we have every confidence this newly-inked guy will crush it.