The definitive timeline of Justin Bieber and Hailey Baldwin's relationship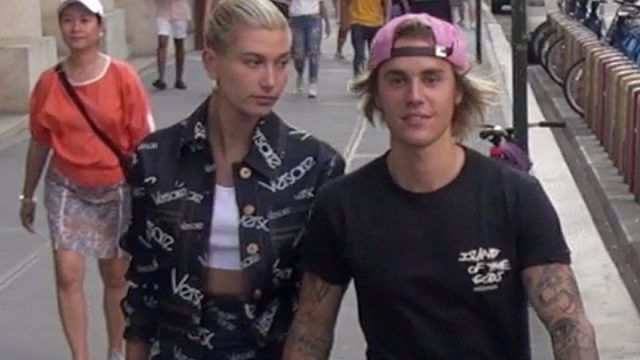 On July 8th, rumors began to swirl that Justin Bieber and Hailey Baldwin got engaged. TMZ first reported the news, claiming that the singer popped the question to the model during a vacation in the Bahamas.
On July 9th, CNN reported that a source close to the couple confirmed their engagement. The news outlet also shared several social media posts that seemed to allude to a proposal, including a since-deleted tweet from Baldwin's father, actor and producer Stephen Baldwin. In it, Baldwin shared a Bible verse about husbands loving their wives and declared that God "is moving in the hearts of JB & HB" while tagging both of Bieber's parents.
The couple has yet to officially comment on the alleged news, but we do know the pair go way back.
The meeting.
A video shared by The Cut on Instagram documents the first time that Baldwin and Bieber met nearly 10 years ago. It was 2009, and Hailey, along with her father, met the singer backstage before he appeared on Today. In the clip, Hailey's father quipped, "We've been enjoying your music."
Just friends.
CNN reported that in 2011, Hailey (once again accompanied by her dad) attended the premiere of Justin's movie Never Say Never and hung out with the teen heartthrob on the red carpet before the show.
In 2014, Elle.com notes that both Hailey and Justin began spending time with the Kardashian-Jenner brood, while Bieber's ex, Selena Gomez, made efforts to dissociate herself with the reality-TV family. Meanwhile, that same year, Hailey and Justin were photographed allegedly attending church together, even standing next to each other in the same row.
Baldwin dismissed the idea of a budding romance in an interview with E! News, saying that she and Bieber were just good friends.
"We have just stayed close and there's nothing more to it than that," she told E! News at the time.
Making it official.
In December 2015, Elle.com noted that the pair took a trip to the territory of Anguilla, where they spent New Year's together. By January 3rd, 2016, Biebs was posting photos of him and Hailey kissing, confirming that they were a couple. However, in February, Justin told GQ that they were keeping things casual.
The breakup.
According to E! News, later in 2016, Justin was spotted with Sofia Richie. He and Hailey reportedly unfollowed each other on social media. They maintained their radio silence into early 2018, and during that time, Justin broke up with Richie and briefly reconciled with Gomez.
The Reunion
Hailey and Justin rekindled their romance in the past few months, according to People.com. They were reportedly seen kissing in June, and since then have been spotted together all over N.Y.C.
We're wishing the couple all the best (and hoping for some official confirmation either way sometime soon!).