Justin Bieber and Hailey Baldwin apparently told a fan that they are, in fact, married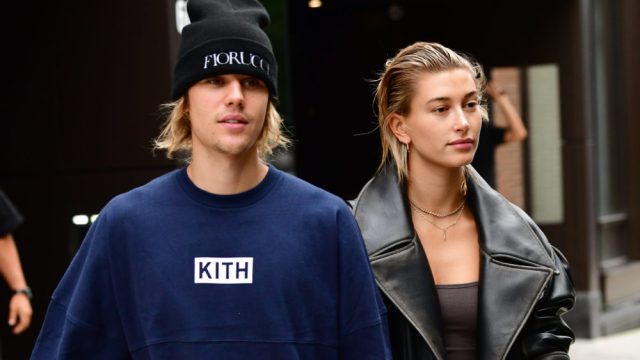 The truth has been revealed: Justin Bieber and Hailey Baldwin are in fact husband and wife. At least according to a fan who says she straight-up asked them. The pair have kept their relationship status on the down-low ever since being spotted at a New York City courthouse in September, but it now seems like Baldwin and Bieber definitely tied the knot.
"I asked them if they were married and they simultaneously said yes!" fan Nona Melkoni told Us Weekly. She continued: "They were both very happy and kind. He told me that she's his angel. They were super sweet!"
Melkoni dined next to the couple at Joan's on Third in Studio City on October 16th. Us Weekly reports that Joan's has become the newlyweds' hangout since making things official. Another fan spotted them there on October 15th, noting that they looked "very lovey-dovey," and that Bieber "was hugging [Baldwin] from behind while they waited in line to order food."
Bieber and Baldwin got engaged in July shortly after rekindling their on-again, off-again romance. Their short engagement was capped with what we're now pretty sure was an intimate courthouse wedding in September, and sources say they're now planning to purchase a home.
https://www.instagram.com/p/Bm-ESrsBQww
However, confirmation of their marriage is still second-hand knowledge—neither Bieber nor Baldwin's camp have released any statement about their union. But with Melkoni's statement paired with the fact that Bieber called Baldwin "his wife" during a September 30th trip to the Stratford Perth Museum in Ontario, Canada, our wedding bell senses are tingling.
https://www.instagram.com/p/BmhM7DwBL1l
No matter their legal couple status, we're happy that Bieber and Baldwin seem to be in such a good place. Keep doing you, guys.