Justin Bieber shared a close-up shirtless selfie of his tattoos, and prepare to fan yourself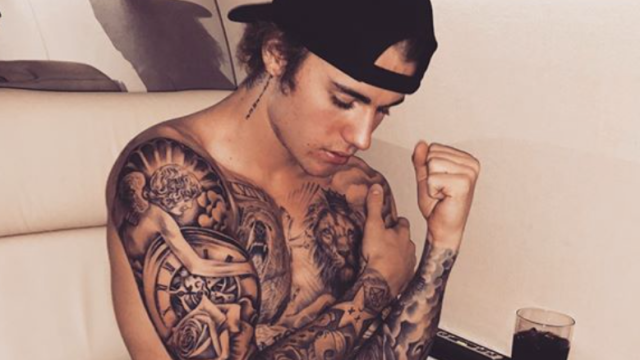 Justin Bieber has been having quite the Instagram renaissance lately. When he's not spreading the gospel on social media, he's apparently taking it all off to flaunt his heavily tattooed body. Bieber just shared a shirtless selfie that proves every inch of his chest is covered in ink.
"If tattooed [sic] didn't hurt everyone would have them. Well maybe not very one...Over a hundred hours of hart work on my body and I wouldn't take back a single one...I ABSOLUTELY LOVE ART AND IVE MAde my body a canvas and it's SO MUCH FUN," he captioned the pic.
There is so much to unpack here. First of all, would we all have tattoos if they didn't hurt? Like, would we though? Second, Bieber has spent 100 hours in the tattoo parlor. That's insane! Last, he called his body "a canvas," which is both true and, well, intense.
Some notable pieces of ink on his chest include the words "Purpose" and "Believe" (both names of his albums), the phrase "Son of God," his iconic Lion tattoo, and a giant cross running down his sternum. There's a lot of religious iconography, but it makes perfect sense for the evangelical singer.
It feels like Bieber gets a new tattoo every five seconds, but his last major tat addition was in January 2018 when he got an angel holding a clock on top of his right arm.
The majority of his ink is restricted to the torso and arm area. Well, he does have that one face tattoo.
In 2016, Bieber he got a tiny cross placed right near the corner of his eye, and naturally, the internet freaked out. For Bieber's sake, the face tat is so microscopic, it's hardly noticeable. That being said, who knows where else his ink obsession will lead in the future. After all, his body is a canvas.