The fight for justice for George Floyd isn't over, here's how you can keep pushing forward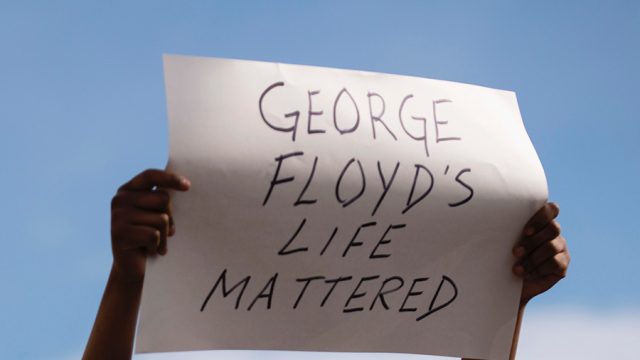 This article was originally posted on June 1st and has been updated to reflect recent events. 
Warning: This article discusses violence, police brutality, and murder.
On Monday, May 25th, another Black life was taken as a result of police brutality. George Floyd, a 46-year-old security worker and truck driver, was killed after a Minneapolis police officer pinned him to the ground with his knee on his neck for several minutes. Floyd pleaded for help, saying, "I can't breathe"—the all-too-familiar last words of Eric Garner, another Black man killed by a police officer in 2014.
Floyd's fatal arrest started with a report that he had allegedly used a counterfeit $20 bill at a store. Videos of the incident spread across social media, showing officer Derek Chauvin kneeling on top of Floyd as three other officers (Thomas Lane, Tou Thao, and J. Alexander Kueng) stood by. Since then, angry, heartbroken, traumatized, and exhausted citizens have filled the streets of Minneapolis and cities across the nation every day to protest.
At this point, all four officers have lost their jobs and are facing charges. Chauvin has been charged with second-degree murder while the other three officers involved are facing charges of aiding and abetting second-degree murder. This didn't happen without a fight. Chauvin was originally charged with a less serious count of third-degree murder and manslaughter, which comes with a maximum sentence of 25 years in Minnesota. This changed after an independent autopsy report revealed that his cause of death was asphyxiation (the deprivation of oxygen).The impact of the widespread media attention on this case along with the many protests, calls, emails, and petitions for justice also can't be ignored. 
However, CNN reports that, for Floyd's family, the news of the charges is bittersweet. The family hopes to see Chauvin's charges increased further to first-degree murder, which requires intent. The charges for all four officers are also only one step toward justice—and based on history, the chances of these officers being convicted are not good. NBC News reports that each year in the United States, police have shot and killed somewhere between 900 and 1,000 people. Yet, research by the Police Integrity Research Group shows that, since 2005, only 35 of these officers have been convicted of a crime.
So, there's more work to do—and those propelling the fight forward know that. Since Floyd's death, there have been protests in cities and towns in all 50 states and some have continued for 15 days straight at the time of this article was published. Some on social media have shared reminders that the Montgomery Bus Boycott lasted for 381 days, urging people to keep the momentum. As we keep pushing forward for justice for George Floyd and the many Black lives lost to senseless violence, follow below for action steps and ways you can help.
How to demand justice for George Floyd and others:
1Sign petitions.
Sign Color of Change's #JusticeForGeorge petition to demand that all four officers involved in Floyd's death be arrested and charged. You can also text "FLOYD" to 55156 (or tell others to do so) to be directed to the link and sign the Change.org Justice For George Floyd petition here. UPDATE: These demands have been met.
Sign Reclaim the Block's petition to defund the police and pressure Minneapolis' city council to divest from the police department and invest in "the resources that really keep us safe and healthy, especially in Black communities, Indigenous communities, and communities of color." UPDATE: Minneapolis city council members announced their intent to defund the city's police department and rebuild a new model of public safety. Minneapolis Mayor Jacob Frey, however, has refused to commit to these changes, CNN reports.
Sign Black Lives Matter's petition to #DefundThePolice nationally here.
Sign the Justice For Tony McDade petition. McDade, a Black trans man, was murdered by police on Wednesday, May 27th. As the petition states, "the police officer has not been named, body camera footage has not been released, and no charges have been brought to the people responsible."
Sign Change.org's Justice For Breonna Taylor petition. Taylor, a 26-year-old EMT in Louisville, was wrongfully killed in her home on March 13th after officers barged in using a "no-knock" warrant and shot her eight times. None of these officers have even been fired. Find more action items for Taylor here.
2Make calls and send emails.
While the officers involved in Floyd's death have all been charged, you can still make calls and send emails to government officials to demand a fair trial and the conviction of all four officers. Refer to this "BLM Demand For Justice Contact Checklist" document for call and email templates and contact lists for demanding justice for Floyd and for Regis Korchinski-Paquet, Breonna Taylor, Tony McDade, Dion Johnson, David McAtee, all Black lives taken at the hands of law enforcement officers this year.
3Go out and protest.
If you are physically able and feel safe doing so, research what protests are taking place near you and join in the fight. Keep reading to find more protest safety tips.
Resources for protesters:
If you are Black and protesting: Prioritize your safety. Check out Women for Political Change's "A Guide to Protesting: How to Keep Yourself and Your Community Safe" here. The guide includes tips about wearing unidentifiable clothing, knowing which numbers to call if you get arrested, and making sure that all of your loved ones get home safe. The organization also shared a post with a guide to digital security that you can access here. "Our data and communication can become compromised," it wrote. "Digital security is especially important if you are protesting or organizing an action." Representative Alexandria Ocasio-Cortez also shared a graphic and a few tips for protesting safely on her Instagram.
If you are white and protesting: Remember your place. This is not your moment to take the spotlight. Follow Black leaders and uplift their voices in this movement. Do not aggravate police forces or incite violence in any way—this will put Black and Brown protesters at higher risk of retaliation. Protect the lives and bodies of Black and Brown comrades around you. Police are less likely to attack white people, so shield those around you if possible, and step in if you see someone being harassed by the police.
Another important reminder from an Instagram story by WFPC: "We're still in the midst of a pandemic that's disproportionately impacting Black and Brown people. DO NOT enter a predominately BIPOC neighborhood if you have tested positive or have been exposed to someone who has tested positive. Wear a mask, wash your hands, and maintain a six-feet distance from volunteers, friends, and strangers you aren't quarantined with."
4Donate money and supplies.
Whether you don't feel safe or are unable to join protests in person for other reasons, you can still offer aid by dropping off supplies or donating to protesters. Research the protests taking place nearby you and find the drop-off location for supplies and gear. See the post below for places to donate that are directing funds to protesters on the frontlines.
More places to donate:
George Floyd Memorial Fund: Floyd's family fund has received an outpouring of support with over $7 million raised, far surpassing their $1.5 million goal—but it doesn't hurt to keep giving.
Community bail funds: Find a local bail fund in this document and help bail protesters out of jail by donating what you can. The Minnesota Freedom Fund has received a large number of donations in the past week, which is a great thing, but it's asking that people look to distribute funds elsewhere to ensure that other organizations are getting the support they need.
Black Visions Collective: This is a Minnesota-based, Black-led, queer- and trans-centered organization focused on healing and transformative justice. Donate here to support its work.
Reclaim the Block: This coalition is dedicated to demanding that Minneapolis divest from policing and invest in long-term alternatives. It has received an outpouring of donations recently and shared this document to direct people to a list of more organizations that need support.
Black Lives Matter: BLM is a global movement pushing for action and responses to anti-Black racism. Support the global movement by donating here, or find your local chapter here.
What you should and shouldn't share on social media:
DO: Say George Floyd's name. Though the news of the murder has now spread far and wide, it's important to keep the memory of Floyd alive and make sure that victims of police brutality and racial violence don't go unknown or forgotten. Say all of their names.
DON'T: Share photos or videos of the brutality that Floyd and other Black people endure. This can cause or exacerbate trauma for Black people for whom the reality of this violence is already abundantly clear. Instead, share photos of Floyd while he was living, not dying, and share the story of his life. He was a Houston native who recently moved to Minneapolis for work, CNN reports.He stood 6'7″ tall, and his brother calls him a "gentle giant." He played basketball in college and is a father of two daughters. Former NBA player and friend of Floyd Stephen Jackson told CNN that Floyd told him he wanted to better himself and be a better father. "That's all he talked about," Jackson said.
DON'T: Share photos or videos showing protesters' faces. As Minneapolis-based group Women for Political Change shared in an Instagram post, this can put these people at risk of retaliation.
DO: Share resources and accurate information. Share action steps and educational tools, like this document of anti-racism resources for white people. It's especially important that white people use their platforms to put pressure on other white people to pay attention and take action while uplifting (not overshadowing) the voices of Black people and organizations.
DON'T: Post as if nothing is happening. Silence makes a loud statement in times like these. Be mindful of your posts and the freedom you have to keep calm and carry on while others are fighting for their lives. Show solidarity by showing up and using whatever platform you have for justice.