We just learned Kendall Jenner has a secret tattoo on her face(!!!)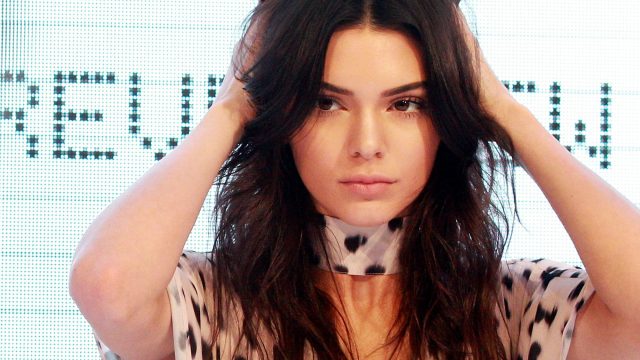 When you think of face tattoos, you might picture something obvious, like a series of black tear drops or maybe a dragon. Really, any ink you get on your face will stand out, since that's the first place people always look.
So our minds were absolutely BLOWN to find out that Kendall Jenner has a face tattoo of her own. I mean, she has some stellar small and subtle tats, like the delicate broken heart tattoo that matches the same one Hailey Baldwin has. Or the other white tattoo on her other hand. But we've never noticed a face tat.
Have you ever seen it? Probably not, because it's hidden inside in her mouth. In a recent interview for her Allure cover shoot, Kendall spilled the deets on tiny tat inside her bottom lip, which says "Meow." She has written about her two other tattoos on her site, but has kept the lip tattoo a secret until now.
The problem with lip tattoos is that they fade, and Kendall's rep told Allure that the cat-themed ink has faded since the shoot. This often occurs with finger tats, too, since we use our hands so much and the skin on the palms and inside of our fingers absorbs ink less than other areas.
However, more tattoos might be on the way for the up-and-coming model.
"Even though Kim always says, "Don't put a bumper sticker on a Bentley," I really like tattoos. I definitely want more eventually, I just don't know what I would get right now. I don't have anything in mind. You'll just have to wait and see!" she said on her site.
More ink or not, we know Kendall Jenner will always look fiercely rad.