Robin Williams will have a presence in "Jumanji: Welcome to the Jungle"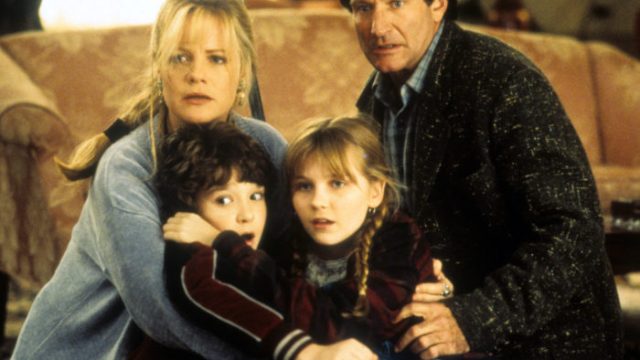 Today in extremely bittersweet news, it looks like Robin Williams will play a role in Jumanji: Welcome to the Jungle. 
Williams starred in the 1995 original film, Jumanji, as man trapped inside a children's board game. So, it's really only fitting that he play a part in the story's next installment.
Jack Black — who stars alongside Dwayne Johnson, Kevin Hart, and Nick Jonas in the film — told The Hollywood Reporter that the audience won't actually be able to see Williams, but there will be an important tribute to the actor.
"We're exploring this jungle and trying to conquer the game; it's life or death, he said. "But while we're there, we find clues left behind by [Williams' character, Alan Parrish]. He built up a full-blown jungle house, similar to a Swiss Family Robinson situation. It's like he's there helping us without actually being there.
Black also had words of reassurance for fans of the original film, who might not be so keen on the idea of a sequel.
"Robin would be proud," he told TMZ. "I love Robin in Jumanji, the original, so we had big shoes to fill. But I think we did a good job."
Johnson seconded that sentiment, taking to Instagram to express his admiration for Williams — and dedication to paying tribute to the late comedian.
"You have my word, we will honor his name and the character of 'Alan Parrish' will stand alone and be forever immortalized in the world of Jumanji in an earnest and cool way," he wrote. "I have an idea of what to do and I think his family will be proud."
One thing is definitely for certain: Bringing tissues to the theater will be an absolute necessity.