Julie Andrews had the *most* Mary Poppins reaction when she learned Emily Blunt would play her iconic role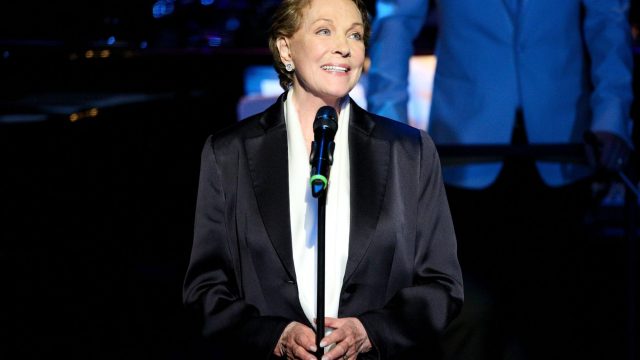 Mary Poppins Returns has officially finished filming and Entertainment Weekly got the inside scoop on what to expect from the sequel to the beloved original 1964 Mary Poppins film. The film, which has Emily Blunt stepping into the iconic role of super(natural) nanny Mary Poppins, doesn't arrive in theaters until Christmas 2018 but we're already freaking out with excitement.
The sequel takes place 25 years after the events of the original film and sees Mary return to 17 Cherry Tree Lane to bring some magic back into the lives of the Banks family, following the death of a now-adult Michael's (Ben Whishaw) wife.
Let's be real, Emily Blunt couldn't be more perfect to play Mary Poppins but there's one person whose opinion really matters — Dame Julie Andrews.
According to EW and director Rob Marshall, Andrews couldn't have had a more adorable reaction. She allegedly said "YES"and threw her hands up in the air. According to Marshall, Andrews added:
"This is Emily's show. I want her to take this and run with it, because she will be brilliant."
Well this is supercalifragilisticexpialidocious!
Marshall also told EW that Blunt was the first and only actress he considered to fill the Andrews' shoes after being approached to direct a sequel to the classic film. He said, "Nobody can play this role like Emily Blunt can."
While we just *know* that Blunt is going to be incredibly magical as the beloved nanny, The Girl on the Train actress spoke to EW about taking on an iconic role.
"It's a very nostalgic couple of words, isn't it?" Emily Blunt saidof making a sequel to such an iconic movie. "I hope what we're doing, and it certainly feels this way to me, is beautiful and profound and will be able to stand alone from the original."
We have a feeling that this sequel will only exceed our expectations, which are already up to the highest height. The star-studded cast also includes Lin-Manuel Miranda, Emily Mortimer, Julie Walters, Colin Firth, Angela Lansbury, and Meryl Streep. The film floats into theaters on an umbrella on Christmas 2018.