Julianne Hough's hair at the "DWTS" finale is an interesting take on the faux bang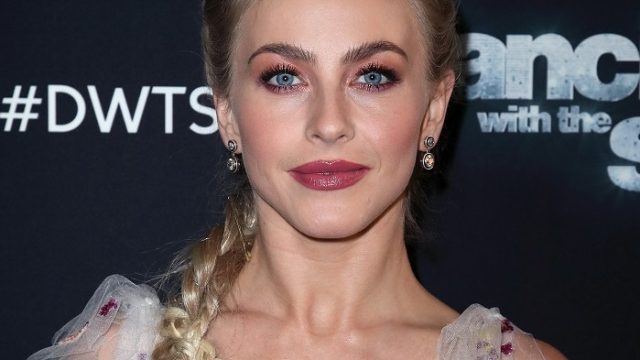 Hair trends come and go, but bangs seem to keep making a comeback no matter the decade. Let's be real, though: They are a commitment. Which is where faux bangs come into play. One person who has this down? Julianne Hough, whose side bangs on Tuesday night's Dancing with the Stars finale have us doing a double-take.
According to Hough's hair stylist Jill Buck, the inspiration was "simple French elegance." Alongside makeup artist Spencer Barnes and celebrity stylist Anita Patrickson, Buck achieved this with a side-swept faux-bang hair piece that matched Hough's hair color immaculately, as if it had been created from her own locks.
"Glam team nailed this Final look of the season! One of my favorites! 💃🏼❤️❤️" Hough wrote on Instagram, which we take to mean she was as impressed as we are.
This isn't the first time Hough has rocked faux bangs. During this past April's Disney night, the singer, actress, and dancer wowed audiences when she appeared as Tinker Bell, totally nailing the popular pixie's signature updo and corresponding piecey fringe.
Speaking to InStyle.com following that week's DWTS episode, Buck said, "Julianne is always excited to try new looks, so when I brought up the idea of bangs, she was all about it."
Lucky for all of us, she also gave InStylesome insider tips on how she achieved the perfect faux bang for Julianne's Tink hair — without using a clip-in!
"The key factor in tonight's look was the amount of hair I used and positioning of the bangs to keep it looking real," Buck explained.
"With a small ponytail pulled back tight and holding just the crown section of her hair and not the sides, I secured it tight and used this as the 'bangs' for added thickness," she added. "For people with thin hair, this is where a clip-in helps to make the pony thicker."
We're going to try and resist inundating Buck's Instagram comments with questions pertaining to the side aspect of this faux-bang type, but we're really tempted.
In the meantime, if you're feeling the same way, check out some video tutorials! There's one on the faux-bang technique here (using your existing hair) and here (using a clip-in version).