Julianne Hough and her fiancé are putting their dancing skills to use at their wedding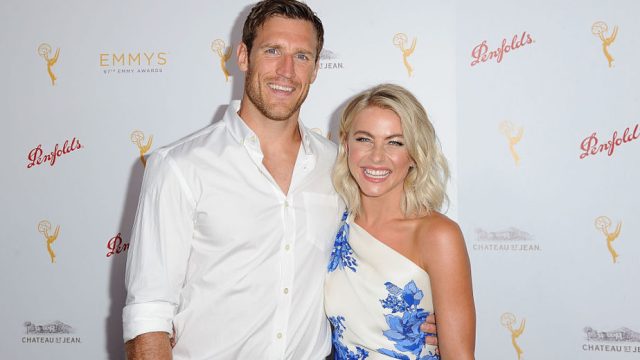 As you probably know, Dancing with the Stars alum Julianne Hough is getting married soon to Brooks Laich, an NHL professional hockey player. Now, we learned that Julianne Hough and her fiancé are using their dancing skills at their wedding, reported People.
Dancing is Hough's life, as we all know. She's ahhhhh-mazing.
But instead of being intimidated by Hough's dancing prowess, Laich is looking forward to dancing with her at their wedding, and for the first dance in particular.
Awww.
"It's so funny because he really wants to do a first dance," Hough told People. "And that's more on him. Like, he wants to do it. I was like, 'Of course I'll help you and teach you and we can do some stuff. But why don't you ask, like, Derek [Hough]. I mean, he's a dancer. He'll help you.'"
ICYMI, Hough was talking about her brother Derek, a six-time winner of DWTS. But Laich disagreed.
"He was like, 'Why would I want Derek to teach me versus my fiancée who's my best friend,' Hough said.
Awwww. They don't make a heart emoji big enough to describe how much we love Laich's response.
So we assume that Hough, a DWTS judge and two-time dance champion of the show, will help Laich prep for their big day — on the dance floor, that is.
Here's the couple when they got engaged last year.
And here's a photo Hough posted last month of the two of them.
Okay, could they be any cuter?!
Exactly, Hough! Chemistry!
But why Hough's hesitation in teaching Laich how to dance? Apparently, according to People, Hough and Laich once tried doing a "learn-to-country-dance DVD set" that Laich had gotten before they met.
"I was trying to teach him the moves that they were doing and I did it differently and he's like, 'Well, I don't think they did it like that,'" Hough said. "I was like, 'Oh, but come on! I'm better than them…So, that's why…Derek should probably teach him."
Of course, none of us can forget Derek's dancing. Here he is with Marilu Henner.
Riiiiiight?!
No matter who teaches Laich some dance moves for The Big Day, one thing's for sure: It'll be an amazing wedding either way. We can't wait to see the pictures — and dance videos that people are bound to record.