Julianna Margulies is alleging that Steven Seagal also invited her to a hotel room meeting — only he had a gun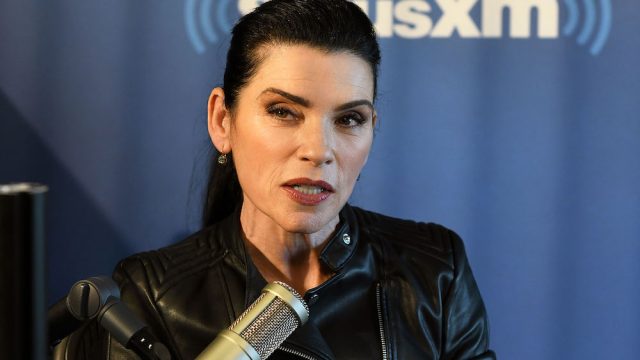 At the beginning of October, The New York Times published a blistering report describing nearly three decades of sexual harassment accusations against Harvey Weinstein. Now, another actress, Julianna Margulies, is speaking out against the award-winning film producer and joining the Me Too movement. In an interview on Friday with SiriusXM's Just Jenny, Margulies said that both Harvey Weinstein and Steven Seagal had made inappropriate sexual advances on her in the past. Even more shocking, Margulies said that Seagal reportedly had a gun in his possession when the incident occurred. The power balance alone must have made the incident frightening — but bringing a weapon into the equation makes everything all the more dangerous.
According to The Good Wife actress, the encounter with Seagal happened when she was just 23 years old. Still a Hollywood newcomer, Margulies was auditioning for a part. The film's casting director asked that she go to Seagal's hotel room at 10 p.m. to go over the scene. When Margulies told the casting director that she didn't feel comfortable commuting via train at night, she was promised reimbursement for a cab ride. And so, she went, expecting that the casting director (a woman) would also be there for the audition.
During the interview, Julianna Margulies explained what happened with Seagal:
"I got to the hotel around 10:40 p.m. and she wasn't there and he was alone and he made sure that I saw his gun, which I had never seen a gun in real life. And I got out of there unscathed…I never was raped, and I never was harmed. I don't know how I got out of that hotel room. It always starts with 'I'm a healer. I want to massage you' and I sort of squirmed my way out."
These aren't the first allegations against Seagal.
Actress-turned-journalist Lisa Guerrero, 53, says that she had a similar experience with Seagal. It happened in the mid 1990s when she auditioned for the female lead in the 1997 film Fire Down Below. Guerrero first spoke publicly of the incident in early October during an episode of Inside Edition and then again to The Hollywood Reporter.
We're glad so many women are finally speaking up about their experiences. We only wish that fewer women had them.