Julia Roberts and Denzel Washington Will Team Up for the First Time in 27 Years
They'll produce and co-star in a new Netflix thriller.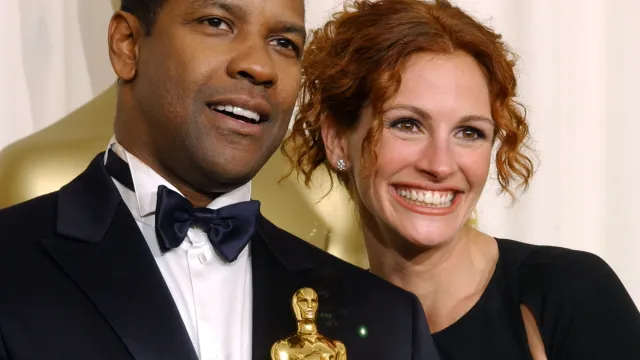 For the first time since starring alongside each other in 1993's The Pelican Brief, Julia Roberts and Denzel Washington are reuniting to produce and co-star in an upcoming Netflix movie. Leave the World Behind is based on the upcoming Rumaan Alam novel of the same name, with Mr. Robot creator Sam Esmail writing and directing. It's a reunion 27 years in the making.
Leave the World Behind, the book and Netflix movie, follows a couple and their two teenaged kids who rent a vacation home in a remote part of Long Island. Expecting a relaxing vacation, the family is upended when the homeowners return to the rental explaining that the city has experienced an unexplained blackout. Unsure of how to handle the situation, the two families merge under one roof and face issues of race, class, and parenthood.
According to The Hollywood Reporter, Roberts and Washington are already attached to star in and produce the Netflix adaptation.
It's been 27 long years since Roberts and Washington shared the screen, and fans are more than thrilled to see them reunite—especially with such a juicy plot.
Netflix came out on top after a heated bidding war for the adaptation of Alam's latest novel. So, to say that Hollywood is excited about two Hollywood titans reuniting in Leave the World Behind is a massive understatement. 
We can't wait see Roberts and Washinton back together again when the adaptation hits Netflix (hopefully sooner than later).