Joe Biden just tweeted his love for Julia Louis-Dreyfus, and excuse us, we've going to cry over it for the next few hours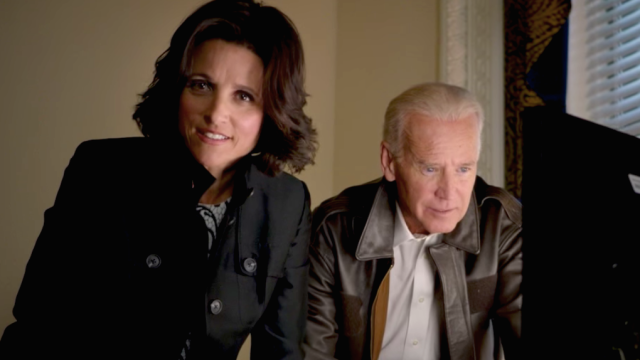 Earlier today, we learned some very upsetting news: Julia Louis-Dreyfus revealed that she has been diagnosed with breast cancer.
Sharing the news to her social media, JLD writes that she's lucky to have friends and family by her side, along with health insurance that will cover her treatment — and she notes that not everyone is this fortunate, and universal health care should be a priority for our nation, whether under President Trump or President Meyers.
Immediately after sharing this, an outpouring of love and support started flooding her feed, with many people sending good thoughts her way. While it's been an emotional day for everyone who has ever loved Elaine Benes and/or Selina Meyers — or both! — Former Vice President Joe Biden just sent our emotions over the edge.
Once a Veep, always a Veep.
Posting to Twitter, Biden writes:
We Veeps stick together. Jill [Biden] and I, and all of the Bidens, are with you, Julia.
The picture of the two of them, sunglasses at the ready, is literally too much for our hearts. It comes from a video they did back in 2014 for the White House Correspondents' Dinner, where the two Veeps go wild in the White House, hanging out in the Oval Office, and sneaking ice cream before Michelle Obama catches them. Wow, remember how fun and happy life used to be?
https://www.youtube.com/watch?v=da5tjfpKyac?feature=oembed
JLD has already responded to the tweet, and hold on, we're going to need a moment:
Once again and until the end of time, sending so much love to JLD. Okay, now back to crying because Biden is the sweetest, we miss you, come back.