"Veep" production has been delayed while Julia Louis-Dreyfus undergoes breast cancer treatment
Production for the seventh and final season of HBO hit series Veep has officially been postponed as star Julia Louis-Dreyfus continues treatment for breast cancer.
Veep executive producer Frank Rich confirmed the production delay during a recent chat with SiriusXM's Julie Mason.
"We're obviously postponing production of the show — we were supposed to have started now — while she's in treatment, Rich said. "But the expectation is that we will shoot again. We have one more season we're doing, which we're incredibly excited about.
The producer added that while the final season has yet to begin filming, the rest of the cast and crew have been hard at work, prepping for Julia Louis-Dreyfus's return. He said, "Rather impressively, while we wait for her to gather her full strength, around her treatment, we've been having with the cast in Los Angeles, table reads of scripts for the final season as they're ready."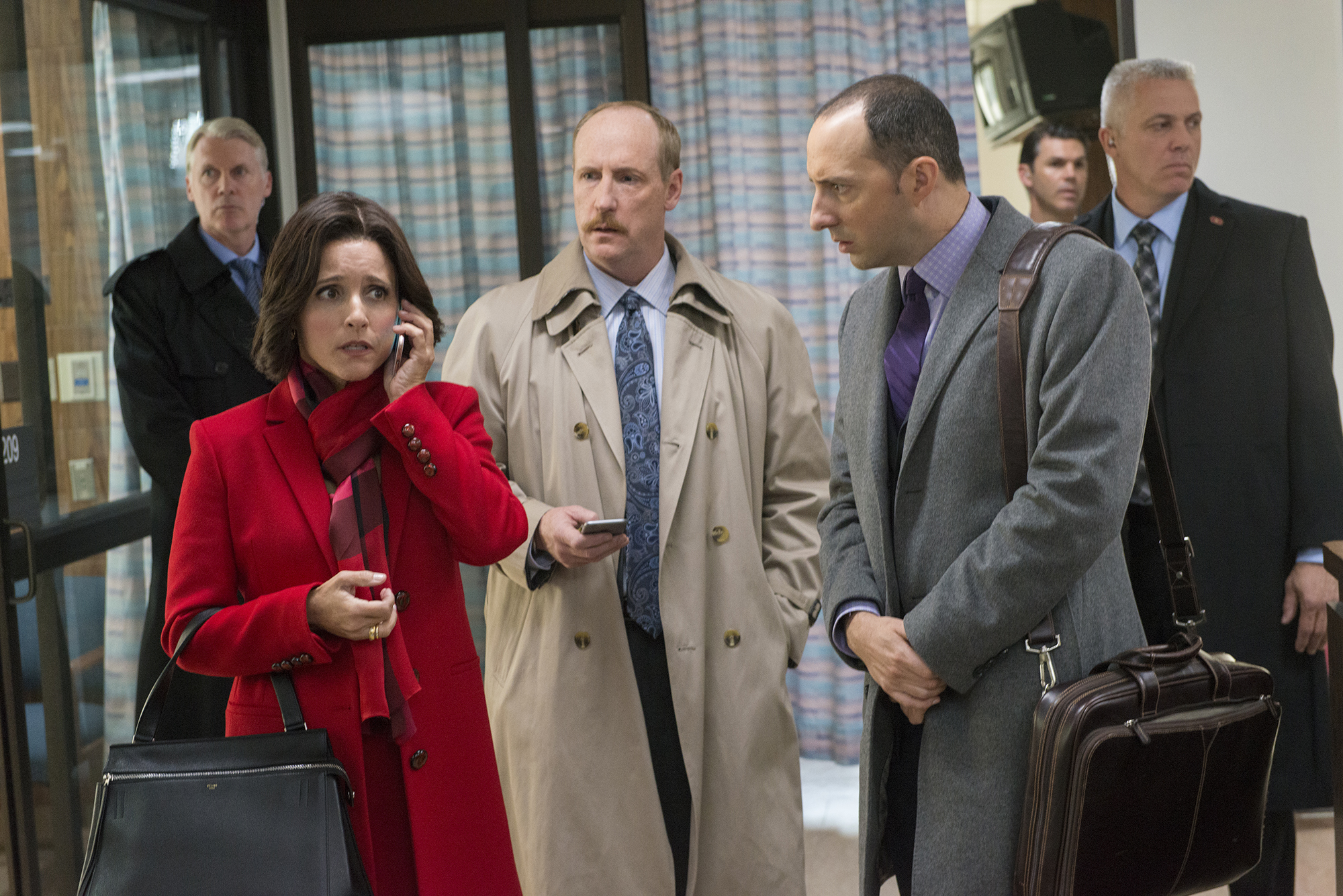 The production delay isn't entirely surprising.
HBO announced the hit series would be adjusting its production schedule to accommodate its star's treatment schedule. And since going public with her cancer diagnosis in September, the Veep star has been very candid with fans about her treatment, taking to Twitter to share the pump-up videos her Veep co-workers have been sending as she undergoes chemotherapy.
At the end of September, in a statement posted to her various social media accounts, the actress announced her diagnosis with breast cancer. It was later revealed that she was formally diagnosed the day after winning her sixth consecutive Emmy for her role as Selina Meyer on the long-running HBO series.
"1 in 8 women get breast cancer. Today, I'm the one." she wrote. "The good news is that I have the most glorious group of supportive and caring family and friends, and fantastic insurance through my union. The bad news is that not all women are so lucky, so let's fight all cancers and make universal health care a reality."
During his conversation with Mason, Rich praised Louis-Dreyfus's work ethic, revealing that despite being in the middle of treatment, the actress has been adamant about working as much as she can. He said, "So it's been quite something because she's fighting a serious, what is for anybody, a real illness. And yet, wants to keep working as much as circumstances allow without being crazy about it."
Rich added that the cast and crew of Veep have remained a strong support system for Louis-Dreyfus during her treatment.
"I've seen her as recently as 10 days ago, and watched her just be hilarious playing Selina Meyer," he added. "With the cast all around her playing the assorted group of idiots that Selena has to deal with on a weekly basis on the show. So she's got a great support system. She's a very strong person and we can't wait to welcome her back at full speed.
We're so happy to hear how supportive HBO and the cast and crew of Veep have been as Julia undergoes treatment. Veep will reportedly begin filming after Julia Louis-Dreyfus completes her treatment.