Now's your chance to get the Oprah-approved Julep lip vault that sold out in THREE hours
It's safe to say that anything Oprah touches turns into gold as anything she endorses tends to sell out fairly quickly.
That means the "Oprah Effect" has definitely carried over to beauty products, as Julep's It's Whipped Limited-Edition Lip Vault made Oprah's infamous "Favorite Things" list this year, and the set sold out in just three hours. But before you seethe in frustration, know that you can still get your hands on this Oprah-approved beauty buy.
Featuring 25 super-pigmented matte lip colors, it's pretty understandable why Queen Oprah selected the Julep It's Whipped Limited-Edition Lip Vault ($249) this year.
It treats your lips to every kind of shade you could ever want, making it the ultimate makeup lover's dream. So, if you love sexy nudes or love deep rich plums that boast an alluring matte finish, know that this set is great for those who love long-lasting shades.
https://www.instagram.com/p/BbIf9ydDI0V
Each Julep shade delivers 12 hours of long-lasting color that will last during all your bites and sips this holiday season.
Plus, the Julep formula is ultra light, as each shade boasts an airy light texture that won't dry out your lips.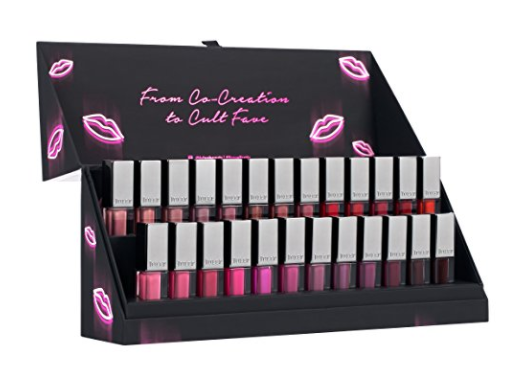 But while the Julep It's Whipped Limited-Edition Lip Vault is currently out of stock on Amazon, the site says you can still add the item to your cart, and they'll ship it out once it's back in stock.
With that said, you're totally going to want to bookmark the link for sure, as this set is way too gorgeous to pass up.