Juicy Couture is bringing back its signature tracksuit with an all-glitter version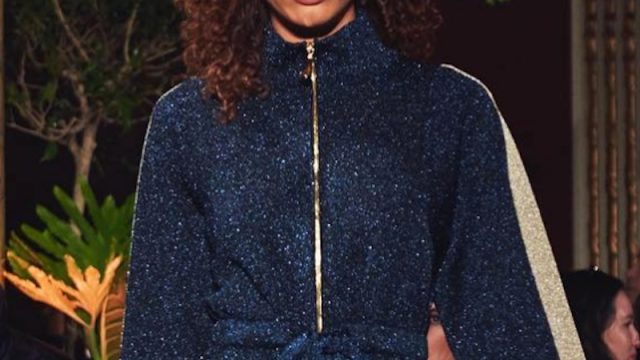 New York Fashion Week is in full swing, which means the biggest brands have hit the runway to show their newest collections. One of our old faves, Juicy Couture, hit NYFW with a playful revival show and a collection full of fun ready-to-wear pieces. But there was one ensemble that stood out the most — an all-glitter tracksuit.
Is there anything more iconic than a Juicy Couture tracksuit covered in glitter? Our answer is no. Model Alicia Herbeth strutted down the catwalk in the dark blue, sequined tracksuit featuring a tie-belt at the waist and gold zipper.
Is this glittery tracksuit enough to propel us into another era of Juicy Couture prominence? We hope so. Some of our favorite celebs like Kylie Jenner and Armie Hammer have already worn the brand's signature velour tracksuits this past year. It will be fun to see who steps out wearing this new sparkly version and, if we're being honest, it could very well be us.
Juicy Couture's glitter tracksuit in all its glory during NYFW.
The glitter suit wasn't the only tracksuit on Juicy's runway. They showed an array of tracksuits in different styles.
This Juicy Couture tracksuit has a bit of a '70s vibe, and we're not mad about it.
And for something completely different, an all-leather onesie caught our eyes as well.
It's got a moto-chic thing going on.