Juicy Couture is coming to Urban Outfitters, which seems weirdly appropriate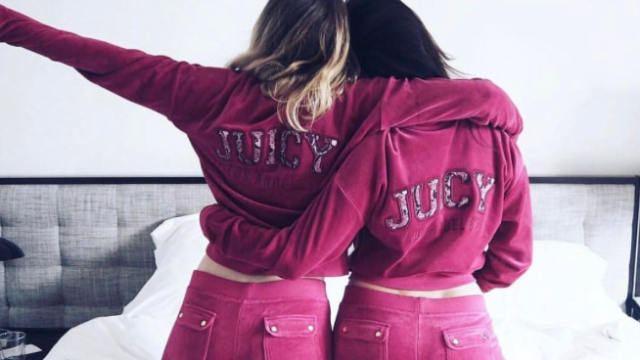 Today in strange fashion news, Juicy Couture is coming to Urban Outfitters. We didn't see this coming either, but an Urban Outfitters x Juicy Couture collaboration is very much happening, and, TBH, it's pretty cool when you think about it. Somehow, a Juicy velour tracksuit being at home at UO makes sense. If nothing else, Juicy's totally '90s spirit will definitely fit in with ease in the vintage-laden, throwback fashion of Urban.
You might not know how to feel about the fact that Juicy Couture is coming to Urban Outfitters, but it's happening, and here's what you need to know!
One main reason people are freaking out about this collab is that the pieces are relatively reasonably priced, selling for between $39 and $199, Refinery29 reports. If you've always wanted that iconic Juicy logo on every part of your body, you're in luck, because Urban will sell Juicy products in both their apparel and intimates section.
Tinashe is repping the brand, and honestly making us want it more and more!
https://www.instagram.com/p/BQQ_UQShnqr
Because what's 2017 if not the year we want to bring back having "Juicy" written on the butt of every single thing we own? It's like we're finally going to be one of the cool kids!
If anything, we should've guessed that Juicy was on to bigger things when ~queen of trendy fashion~ Kylie posted a pic in the sweats.
https://www.instagram.com/p/BPWFhaWB-dz
Regardless of your thoughts on Kylie, it's hard to deny that it takes like, one second for Kylie to do something and for it to instantly become a trend! TBH, the more we think about this collab, the more pumped we get. We're ready to make up for the awfulness of 2016 by indulging in some major self care in 2017 in the form of velour everything.