This Judy Blume book cover got a Gen Z makeover — and are you there, God? It's me, screaming into the abyss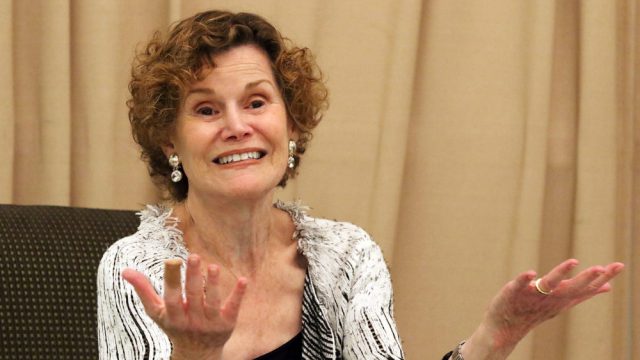 If you were a voracious reader as a child, chances are you had a Judy Blume book in your reading arsenal. Judy Blume's timeless stories about puberty, training bras, and navigating adolescence have resonated with young adults worldwide, and her novels have become so iconic, they're up there with the likes of Harry Potter, Goosebumps, and Sweet Valley High. Blume's books have indeed transcended eras, helping tween after tween grow up, and to attract the social media generation, they got a makeover.
While it's understandable that these books had to be updated to cater to today's #youth, one book in particular (maybe the most iconic of them all), Are You There God? It's Me, Margaret, got the most flack for having cover art that perhaps is *too* modern.
Reporter Jessica Huseman took to Twitter to share an iteration of the 1970s classic. The cover, released in 2014 and only discovered recently by Huseman, features the title character trying to reach God via SMS, complete with text bubbles and all. "What have they done to Judy Blume this book was copyrighted in 1970," she wrote.
https://twitter.com/udfredirect/status/977950430306107394
Longtime lovers of Judy Blume's book were completely iffy about this cover update and rightfully expressed their disappointment.
https://twitter.com/udfredirect/status/978085295072583680
https://twitter.com/udfredirect/status/977990901799768064
Some even shared snaps of the editions they grew up with.
And of course, there were also some who liked the concept behind the new cover.
In an interview with Vox, illustrator Debbie Ohi, editor Justin Chanda, and art director and cover designer Lauren Rille defended their design decision.
"We were thinking that this was the most iconic book for kids this age, so what is the most iconic thing we can think of? Texting emerged," Chanda explained. "It's funny, of course, because there are no cell phones in the book, but Judy has also said that if it was written today, Margaret would be a texter!"
While we, too, think that the new cover is a little bit cringeworthy, we want the book to appeal to younger generations so it can help them the way it helped us. And if text bubbles are a way to get them to read the book we loved so much, then so be it.