Jude Law is going to play young Dumbledore, which means our favorite headmaster was a total babe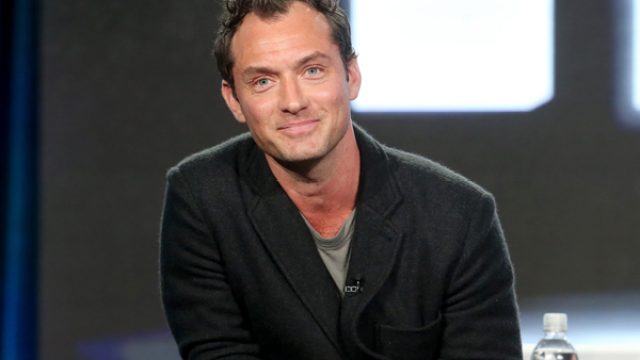 Stop everything you're doing right now, Jude Law is going to play young Dumbledore! Because, apparently, Dumbledore was crazy sexy in his youth.
Ever since Fantastic Beasts and Where to Find Them hit theaters in 2016, Harry Potter fans have been waiting to see who would play all the iconic characters — the younger versions, that is.
On Wednesday, Warner Bros. Pictures announced that Law has been cast as young Albus Dumbledore in the sequel to Fantastic Beasts. We'll wait a minute for that to sink in.
According to Variety's report, Law will be playing a young version of the Hogwarts headmaster in the Fantastic Beasts sequel. Okay, we're kind of freaking out over here.
"Jude Law is a phenomenally talented actor whose work I have long admired, and I'm looking forward to finally having the opportunity to work with him," director David Yates revealed in the announcement via Variety. "I know he will brilliantly capture all the unexpected facets of Albus Dumbledore as J.K. Rowling reveals this very different time in his life."
Dumbledore is easily one of the most beloved characters in all of Pottermore, and now Law is playing him? This is going to be good.
The 44-year-old actor did nail it as the young Pope, Lenny Belardo in The Young Pope, so why not a young Dumbledore? It actually seems pretty perfect. Plus, who doesn't love The Holiday actor?
He's so charming, as is Dumbledore.
The next Fantastic Beasts film is set to introduce a young Dumbledore when he was simply a Transfiguration professor. It will be long before his headmaster days, and with the British actor playing him, one thing is certain, he'll be a handsome young professor.
In addition to Law, and the lead, Eddie Redmayne, Johnny Depp is returning as Grindelwald. Law and Redmayne versus Depp? Sounds like a match made in movie heaven, right?
We were already counting the days until the Fantastic Beasts sequel, so this news just makes us want it more!