The particular joy of cooking for one after an abusive relationship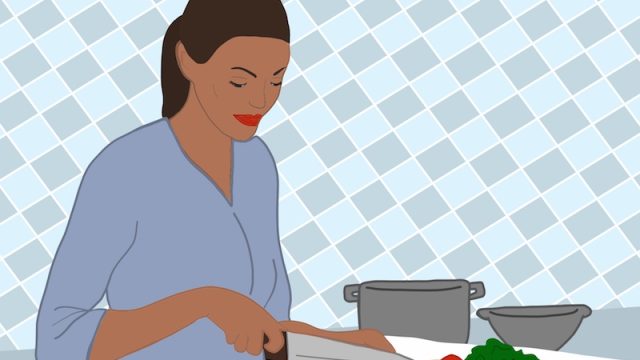 Trigger Warning: This essay describes graphic memories of an abusive relationship and sexual assault.
"He says she likes it," my ex said with a grin. He was telling me about a video he'd watched where a man was shown sexually assaulting a chicken and then bragging about it.
I stood in the kitchen listening while all six and a half feet of him consumed the tiny diner chair I'd found at a local flea market. His hands—one of which could wrap almost all the way around my slender neck—gestured toward his laptop as he spoke. As I studied the man I shared my life with, part of me wondered if he had ever made similar claims about the things he did to my body without my consent: "She likes it." Or maybe, on some level, he was too ashamed to brag about that.
It took me three years to leave him.
"At their core, men are afraid women will laugh at them," wrote Gavin de Becker in The Gift of Fear. "While at their core, women are afraid men will kill them." It turns out that most of his threats were empty, but I've never been one to call a man on his bluff.  
Still, I have fond memories of cooking for my ex. Portobello mushroom ravioli slathered with olive oil and Parmesan, sautéed French green beans drizzled with honey and garlic sauce, baked cremini mushrooms stuffed with cream cheese, and grilled chicken breasts were just a few of the dishes I served in our home. Vegetarian foods had been my preference since the summer of 1995, when five-year-old me bit down on a purple vein hiding in a piece of fried catfish—but as a rural Missourian, occasionally eating animals felt as inevitable as tornados in the spring.
"I don't know how you do it," my ex would remark, always convinced I wasn't getting enough protein, as if a man who'd pin me to our bed with just one hand truly wanted me to grow stronger.
I couldn't grill chickens without remembering the bird in the video or gagging at the mouthfeel of raw flesh, but meat seemed to make him happy—at least for a little while. "Thank you, baby," he would say, sometimes even with a kiss. "This is amazing."
https://www.instagram.com/p/UZ2fbNgiqo
He wouldn't try my vegetarian lasagna or vegan chili, and he showed little interest in my peach cobbler. But every single time I cooked meat, the aggression stopped. We could have a good time. Our coziest nights starred blackened chicken. Our most peaceful mornings featured bacon and eggs.
When I finally ended things and helped him move out, I stopped cooking altogether.
I sold most of my possessions and asked my parents to foster my cat while I figured things out. I spent the next two years bouncing around from one time zone to the next, writing daily and munching on cheap and "easy" foods—raw produce, frozen pizzas, cold cereals. I lived with strangers in Brooklyn, nannied my nieces in the Himalayan foothills, and sailed around Ibiza with a handful of other journalists. I dated often, and then I stopped having sex altogether. One by one, I slowly ditched the things that made me uncomfortable, the things I thought I had to participate in to be the best version of myself: eating meat, doing office work, wearing push-up bras.
My new life was unrecognizable in nearly every way because I needed it to be—but instability is exhausting. So with less than $400 to my name, I drove from Missouri to Los Angeles last summer, hoping to land a writing job at a nonprofit that incidentally works toward preventing cruelty to farmed animals.  The move was about chasing financial stability, health insurance, and full-time work that would enable me to stay in California—but it was also about doing the whole thing as a single woman—a fact many of my loved ones had difficulty understanding.  
"So, is your mom driving out there with you?"
"If it comes to violence, keep fighting until they can't fight back."
"Don't stop after dark if you don't have to, okay?"
"I can't believe you're driving out there all by yourself!"
"Be careful."
"So…you're a vegan now?!"
I mapped my route and packed for the desert: Grandpa's pocket knife, sunscreen, blankets, water bottles, and a picnic basket overflowing with fruits and chips and granola bars. I drove to Great Bend, Kansas, where my brother greeted me with hugs and a pot of vegan chili. Four hundred miles later, I arrived in the mountains of Kittredge, Colorado, where my cousin welcomed me with vegetarian tacos and homegrown cannabis. We hadn't seen each other in over a year.
"Do you ever hear from your ex?" he asked.
"It's better if we don't talk to each other," I said, preferring not to get into the details of our breakup.
I took a phone interview for the nonprofit job in my cousin's guest room and it went well. I drove I-70 West to I-15 South, clearing Utah and Vegas and the Mojave.
The night I arrived in Los Angeles, I stayed with guy friends, promptly fainting into their pile of freshly laundered clothing. After covering 13 hours of desert on less than four hours of sleep, I'd finally made it to L.A.—unsettled, scared, and exhausted, but unscathed.
Oh, and I got the job.
https://www.instagram.com/p/BakMtDHF0EA
I made lentil soup for myself shortly after moving out West. Not because I was suddenly free of triggers left over from my abuse—I still held my breath every time strange men stood behind me in line at Whole Foods or walked behind me on the sidewalk. I didn't make soup because I missed cooking or because I had someone new in my life to cook for, either.
I cooked because I knew that I would only stay in California if I felt at home, and because my budget necessitated that I get back into cooking.
Frequenting even the most affordable vegan and vegetarian restaurants wasn't an option for me, but I did have a kitchen. I started small, of course. My diet consisted primarily of soups, pre-made skillet pastas, and homemade vegan pizzas for a couple of months. A far cry from the stuffed mushrooms and sautéed green beans that I used to make for my ex—but I was cooking just the same. My roommates were away often enough that I usually had the kitchen all to myself, and their cat and dog often kept me company.
Soon, I was looking forward to cooking in the evenings. I learned how to eat vegan on a budget and simultaneously fell in love with Trader Joe's. I lit candles and listened to podcasts while I cooked, sometimes opting to let Spotify or Parenthood play in the background instead. As the days grew shorter, cooking and going on evening walks with the dog became my new routine. I even started looking forward to buying groceries and walking them home.
https://www.instagram.com/p/Bd_L8tDlZku
After Christmas, I drove back across the country to visit family and save up for my own place, and I ended up working my way through The Vegan Stoner Cookbook. I went from cooking soups and pastas to creating dishes like vegan cannelloni, orange French toast, and vegan biscuits and gravy. I made samosas and tofu cream cheese danishes for my nieces and they ate them up. I took plant-based pizza bread to my friend's house and she happily devoured it. I made my dad try a chocolate chip cake I baked with bananas instead of eggs and he ate two pieces. I cooked daily, and after two months back home in Missouri, I was finally able to afford my own apartment in Long Beach.
I recently found myself crying on my balcony on a Monday morning.
One of my favorite podcasts aired an episode featuring a male survivor of childhood sexual abuse and we ended up having more in common than I'd anticipated. I probably wouldn't have eaten that day if I hadn't remembered my leftover lentil soup in the fridge. I microwaved a bowl and ate it—then another and another. Still hungry, I made churro chips and mango smoothies for dessert.
I've been entertaining the idea of cooking for two again, but I don't think I'm ready yet. One thing is for certain though: I love cooking for one. I sautéed French green beans for the first time in three years the other day, and they were just as delicious as I remember.
If you are in crisis and need help, call The National Domestic Violence Hotline at 1-800-799-7233.