Josh Server, your "All That" crush, is all grown up and still adorable 17 years later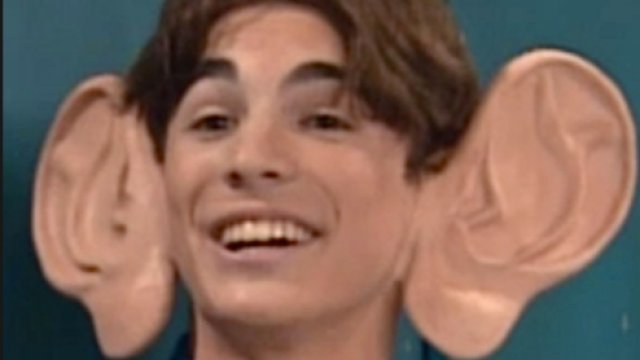 If you were born anywhere from the mid-'80s to early-'90s — and if your parents were cool enough to buy a decent cable package — then you almost definitely have fond memories of All That.
With a Saturday Night Live-esque format and a talented cast of youngsters that included future megastars Kenan Thompson and Amanda Bynes, the SNICK series kept '90s kids laughing week after week from 1994 until 2005, and also low-key featured some of the best live R&B and hip-hop performances seen on TV during that time.
And while fond memories of the show's best moments often include Lori Beth Denberg's "Vital Information" (and her screaming librarian), Thompson and Kel Mitchell's "Good Burger," and Bynes' "Ask Ashley," let's be real for a second: a whole lot of us had soul-achingly painful crushes on Josh Server, the tall, wiry everyman behind such classics as "Detective Dan" and, of course, "Ear Boy."
https://www.youtube.com/watch?v=qdeUyeO-JV0?feature=oembed
(All That had its moments of comedic genius, but coming up with creative names for recurring sketches was not one of the writers' high points.)
Sure, Server lacked Thompson's gift with facial expressions and Bynes' instantly evident star quality, but dude was funny, dorky, physically attractive, and totally sexually non-threatening in that way that just begged young teen girls (and boys!) to have a crush on him.
So, yeah, we loved him throughout all of his six seasons on the show, and were disappointed when his career didn't quite take off like Thompson's, or like Bynes' pre-2012.
But this doesn't mean that the now 37-year-old performer disappeared off the face of the earth. In fact, 2017 Server is not only still performing, he's still enjoying the fruits of his All That labor, too. And, in spite of the cruel passage of time that's made monsters of us all, he's still really, really cute.
https://www.instagram.com/p/BGsWmzBjl0V
(Heyyyy buddy. Room for one more?)
After leaving All That behind in 2000, Server took a break from Hollywood, only acting very sporadically. He guest starred on Nickelodeon series like Drake & Josh, Ned's Declassified School Survival Guide, and Sam & Cat between 2006 and 2014, but nothing beyond a single episode here and there until 2016, when '90s nostalgia reached a fever pitch and Server booked a six-episode gig on Amazon's Good Girls Revolt.
"I've been finding my way back to [acting] in smaller doses the last couple of years, but recently I've really made a commitment to go all out and really start doing it a high level and things are really starting to happen," he told Bustle back in 2014.
Server also told Bustle he was working on a career in indie movies, and had made a short film called World Peace he was working on getting funded. (We can't seem to find evidence of this short film right now outside of its almost-funded Kickstarter, but we're pulling for it!)
Server also joined members of the All That cast for convention reunions in 2011 and 2015…
https://www.instagram.com/p/8tXbqOjl5l
…And joined Thomas, Mitchell, and several other former cast members for a televised reunion special just last April.
Then in July, Server, Denberg, Mitchell, and Danny Tamberelli kept the '90s alive — again — when they appeared on the Double Dare 30th anniversary Facebook Live show.
https://www.youtube.com/watch?v=LzDPd020CXc?feature=oembed
So basically, Server is still living out all of our '90s dreams, 20 years after the fact.
https://www.instagram.com/p/BI-9HTnhg1I
His official website, Twitter, and Instagram pages are all frequently updated with his exciting goings-on, so we recommend staying tuned as Phase 2.0 of Server's career continues to blossom.
He's a talented (and handsome, did we say that yet?) dude, so we're sure more meaty roles will be headed his way any second.