Josh Murray reacts to Nick Viall being chosen as the next Bachelor, and we're #SURPRISED
If you've been following this week's Bachelor in Paradise drama, then you know that Josh Murry and newly-announced next Bachelor Nick Viall are kind of, well, enemies (or so the show's editing would have us believe).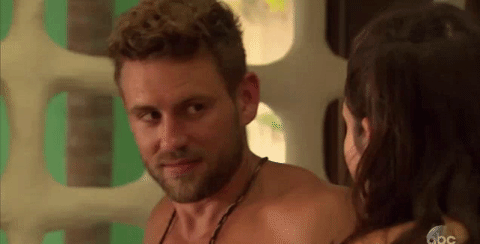 Nick famously lost out to Josh on Andi Dorfman's season of The Bachelorette, and lost out to him yet again in Paradise with adorable mom Amanda Stanton. And as if that wasn't enough, Josh and Nick got into a pretty dramatic clash on this past Monday's episode. If you missed it (spoiler alert!) Josh accused Nick of trying to sabotage what Amanda and he have, and it kind of felt like the whole situation was a mere inches away from an actual fist fight.
Which if why Josh's Twitter post about Nick being selected as the new Bachelor is kind of surprising. What did he say, you ask? Don't worry, we've got you covered:
Awwww! That's actually genuinely incredibly kind and mature of Josh. Perhaps he's turned over a new leaf. Or maybe they reconciled their differences in later eps of Paradise. Or maybe, just maybe, things aren't necessarily as dramatic IRL as the show's editing makes it appear (gasp). 
Not everyone was thrilled about the news of course. Josh's own sister had this to say in a Tweet: false
Stephanie seems to be not-so-subtly implying that Paradise was edited to make Nick look like the total nice guy compared to Josh to better set up the latest Bachelor  news.
Regardless of how you feel about the next season of The Bachelor, we're glad things seem cool between Nick and Josh. Because let's be real — Bachelor Nation is already dramatic enough.