We love that Joseph Gordon-Levitt once played a gay teen on "That '70s Show"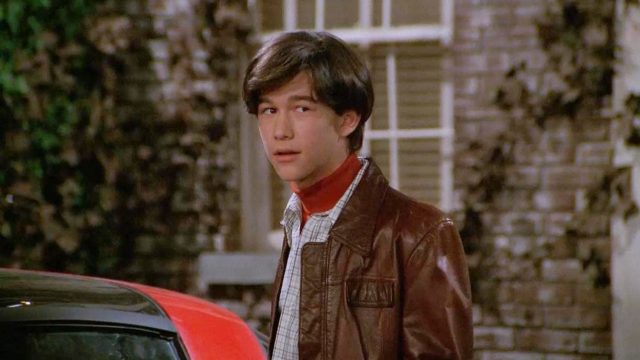 If you were (or are) a big That '70s Show fan, you may recall our beloved on-screen forever crush, Joseph Gordon-Levitt, appearing briefly in an episode entitled "Eric's Buddy," which aired in December of 1998.
The plotline goes a little like this: Eric befriends his new chemistry lab partner, Buddy Morgan (played by JGL). Buddy is known around campus as a spoiled rich kid. They become good buddies (pun intended) with, perhaps, different interpretations of their… bromance.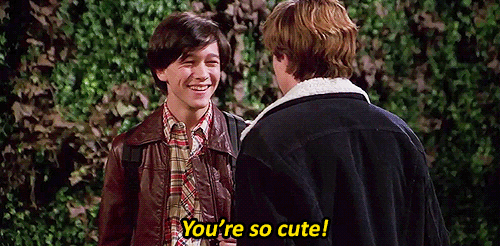 Everything is fine and dandy, and Eric is enjoying riding around town in Buddy's red sports car, until this exchange when Eric is confiding in Buddy about Donna:
Buddy: "It's okay to be confused, Eric." Eric: "Sometimes, you know, like, we're in a movie, and I'm nervous around her, and I feel like I'm playing this part, right? And it's not me..." Buddy: "Mhmm."
And… **Cue THE KISS between Topher Grace and Joseph Gordon-Levitt**
Needless to say, clueless Eric is taken by surprise, exclaiming, "Woah! You… you are… you're… you're gay?"
Buddy half-heartedly denies it, and then fully embraces it.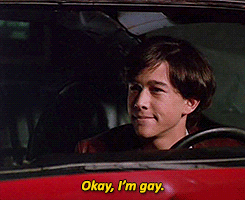 When asked about the big on-screen kiss (which was the first gay kiss on North American prime-time TV!). JGL reportedly said:
"Oh, I was totally proud of that, and I still am. It was a great bit, and it got a great reaction. More than anything else, though, I remember that it was written very well, because the emphasis wasn't on it being gay but on making sure the scene worked and was funny. It was great that it showed people it was just a normal thing."
We love that Gordon-Levitt was already so forward-thinking so early on in his career.
To relive the normalizing, comedy-gold, look no further:
https://www.youtube.com/watch?v=-SwpTnlo2zk?feature=oembed