Joseph Gordon-Levitt Agrees that Tom Is the True Villain of '500 Days of Summer'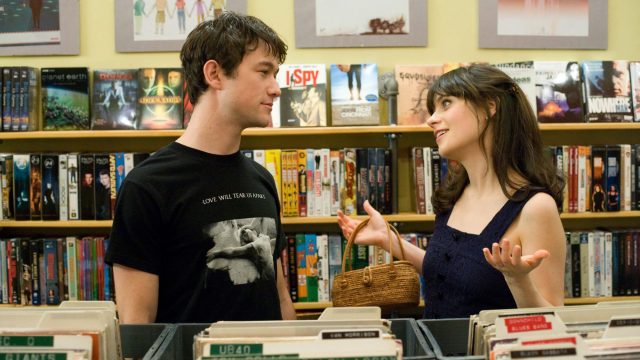 More than 10 years after its release, we all still have *thoughts* about 500 Days of Summer. The 2009 romantic comedy stars Zooey Deschanel and Joseph Gordon-Levitt as a couple going through the motions of love and loss—more specifically, Gordon-Levitt's character Tom pining for Deschanel's Summer after she makes it clear she doesn't exactly believe in love. But even though it's Summer that's painted to be the "bad guy" for breaking Tom's heart, Gordon-Levitt himself has another opinion about the film's actual villain: his own character, Tom.
ICYMI, Twitter users have been sharing memes of side-by-side shots of characters that were positioned to be the villain and the ones that are actually the villain. (Think: Miranda Priestly and Andy's boyfriend, Nate, in The Devil Wears Prada. Or The Parent Trap's Meredith Blake and the actual parents who split apart their twins and never told them they had a sister—yikes.) When twitter user @chrissymeds tweeted photos of Summer and Tom, dubbing Summer the "the movie villain" and Tom "the actual villain," the tweet quickly went viral.
Gordon-Levitt tweeted, "I approve this message," along with the double-eyes emoji for good measure.
It's certainly true that Summer's portrayal was laced with misogyny, which plenty of people have pointed out thanks to the problematic "manic pixie dream girl" trope put on her. And Gordon-Levitt has been vocal before about the fact that Tom kinda deserved to be friend-zoned. In fact, he has even said that Tom and Summer's breakup was all Tom's fault.
Back in 2018, a fan tweeted that he still couldn't forgive Deschanel for "what she did to Joseph Gordon-Levitt in '500 Days of Summer.'" Months later, the actor responded. "Watch it again. It's mostly Tom's fault," he wrote. "He's projecting. He's not listening. He's selfish. Luckily he grows by the end."
Ouch. A scathing but honest truth if we do say so ourselves.
He has also come to Summer's defense in interviews, too. As reported by HuffPost, Gordon-Levitt told Playboy in 2012 that Tom "develops a mildly delusional obsession over a girl onto whom he projects all these fantasies."
"He thinks she'll give his life meaning because he doesn't care about much else going on in his life," JGL added. "A lot of boys and girls think their lives will have meaning if they find a partner who wants nothing else in life but them. That's not healthy. That's falling in love with the idea of a person, not the actual person."
Honestly, points were made. While we still love 500 Days of Summer, we can't help but agree with JGL's character analysis. Justice for Summer!