Jordyn Woods talks to us about #bigboobproblems and why inclusivity is key with her athleisure line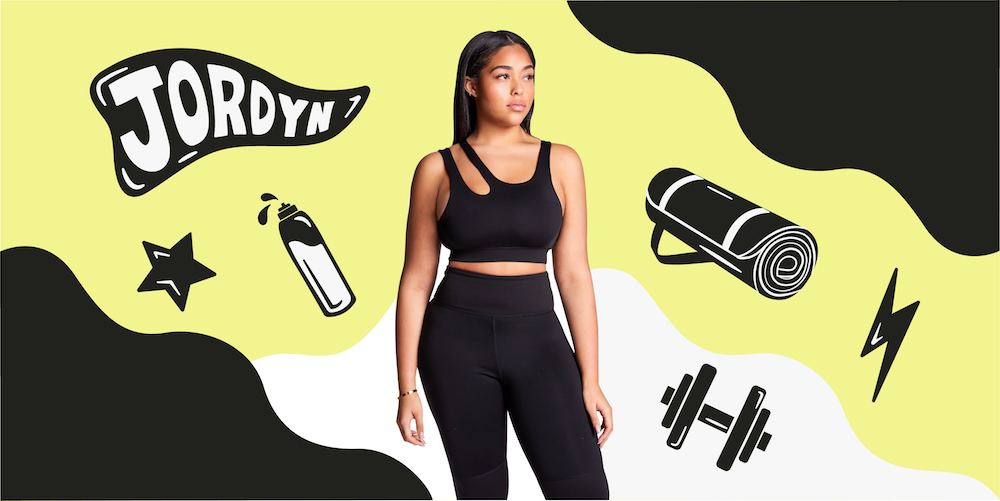 As a plus-sized model and fitness aficionado, Jordyn Woods is no stranger to knowing the value of loving yourself at any size. Long before she turned to working out as a way to cope with the passing of her father, Woods has spoken out about body positivity as a plus-sized model in the limelight. With some pretty dope fashion campaigns and collaborations on her resumé, plus a following of almost 8 million fans on Instagram, the 21-year-old has already made a name for herself in the fashion and influencer world.
Over the last couple years, Woods has worked hard to become a better version of herself, mentally and physically, so she knows a thing or two about the struggles of jump-starting a fitness journey and looking good while doing it. One of the bigger struggles (no pun intended) is finding high quality gear that are for all sizes, especially those with larger boobs. As Woods's passion for getting fit grew stronger, it was only natural that she would combine her love for fitness and fashion to create an athleisure brand, Secnd Nture, which offers inclusive sizes for women, including supportive sports bras.
Many athleticwear brands make larger sizes for tops and bottoms, but so often miss the mark when it comes to the boob department. Woods recognized this and made sure to include sports bras in her line that really hold your girls down when you're in the gym. Not only is this a game-changer—it's worthy of applause.
Secnd Nture's most recent launch includes fashion-forward top and bottom combinations, as well as cutting-edge sports bras that will ensure you feel sexy and secure while working out, at any cup size. We caught up with Woods to chat about why #bigboobsmatter when creating inclusive workout gear, and got her advice for feeling and looking your best.
HelloGiggles: We love that you created sports bras for people with big boobs in mind. Why was it so important for you to offer that option?
Jordyn Woods: It was super important to me because it only made sense that anything I created would be something that I'm able to wear as well. If I am my own inspiration when I'm designing, then these sports bras have to fit bigger busts because I need support with style. Every single piece had to be something that I could be comfortable in, as well.
HG: How is your collection different from what's already out there?
JW: I feel like this collection stands out first and foremost because of our quality. I wanted to design something that had great quality, but was still affordable and not see-through. And it's very versatile, so it can be worn in the gym, for going out, just to chill, and more. Additionally, we added a sexy factor that is really unique and lends itself to being whatever the shopper wants it to be. They can wear any piece and dress it up or down. For example, wearing the track pants with heels, which I love. Overall, it's a very versatile collection and I believe that's what differentiates us.
HG: Your line is already inclusive; do you plan to expand the size range even more?
JW: I want to expand the line with options that allow us to cater to more body types, and it's certainly something we are exploring with lines for petites, lines for longer or shorter torsos, and more.
I wouldn't say we have a date of when we would expand our sizes, because when you start a business, you go with the flow. It's a constant learning process as we build the brand.
HG: It's no secret that you have developed a passion for fitness. What pieces do you wear the most when you exercise?
JW: I'm always wearing a good legging, and I knew that the ALL BLACK collection needed to have the best leggings. But, being a curvier girl, the supportive sports bra is a must, as is the zipper v-neck bra, which I loved creating. I bounce around and see if anything goes flying! A good supportive sports bra and legging that isn't too see-through is crucial for my everyday look.
HG: These pieces seem very versatile. What tips do you have for people who want to wear these items from the gym, to brunch, or happy hour?
JW: I would recommend that people figure out what their style is first and how they want to wear these pieces to complement that style. You can pair our leggings with a bodysuit or plain t-shirt; you can combine our figure-flattering track pants with sneakers or heels. For me, I always think comfort is key.
HG: Kylie shared her support for your new line. What pieces do you catch her wearing all the time?
JW: I always see her wearing the black leggings every single day, to be honest, and the cropped windbreaker jacket is a staple piece. I constantly see her in everything, though.
HG: You've had some amazing beauty collabs, including the Social Butterfly gloss you created with Too Faced, and the Kylie x Jordyn collection. Can we look forward to any more beauty projects?
JW: Yes, there are going to be many more beauty-related projects in 2019, but I don't want to give away anything too soon.
HG: What advice do you have for someone who wants to start a fitness journey, but doesn't know where or how to start?
JW: Don't think about it and just get up and do something. The hardest part is getting there, but once you start and stay consistent with it, you'll find your rhythm.